Identify me!
I am merely some words; still, my impact is enormous.
People often leverage me to define a cause, empower their brand, increase visibility and attract more followers. 
If used right, I can be a bridge between your business and target audience, but if not, then you won't get the exposure you deserve. 
Yes, you guessed it right. I am your constant companion, commonly known as #Hashtag. 
Hashtags are a crucial strategy and an excellent alternative to widening the scope of your business. 
If you're unsure how to use them to your advantage or ace your hashtag strategy, this blog post is for you!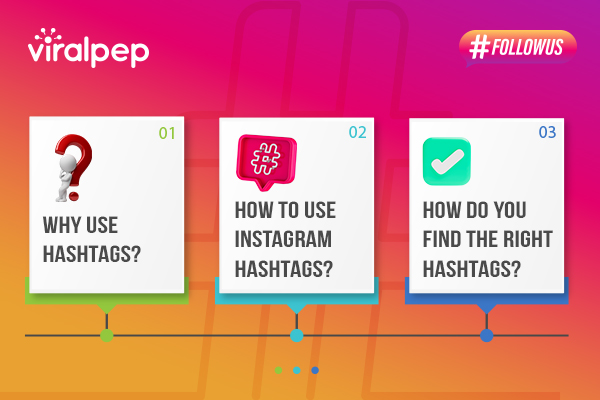 Why Use Hashtags?
According to a study, posts with at least one hashtag give an average of 12.6% more engagement. This is one of the substantial reasons why you must use hashtags in your posts. 
You can make your content easily discoverable to a broader range of audiences interested in engaging with their preferred topic using the associated hashtag. Simply put, users can type the symbol # in the search bar to tag content they are keen to know about. It can be anything; videos, posts, pictures, or messages. 
With the right Instagram hashtags strategy, you can amplify your reach on social media and drive traffic to your content, which will help in boosting views, likes, & shares. 
Considering that you know why hashtags are a valuable asset, let us explain their types.
Types of Hashtags You Should Implement
1. Popular Hashtags
There are numerous popular hashtags, and you might believe using them in your post can help you up your game. However, it's the other way around. Your post can end up looking spammy, which you don't want. 
Thus you must revamp your Instagram marketing strategy by implementing the right range of popular hashtags that add value to your content and join forces with more vital social media conversations. 
Of course, popular hashtags can vary depending on the type of social media you are using. For instance, popular hashtags on Instagram might be #picoftheday or #love. On the other hand, Linkedin might have #personaldevelopment or #investing. Therefore, utilize popular hashtags with the same wavelength as your platform and the meaning of your content.
2. Specific Hashtags
You must include a spectrum of low-volume but highly relevant hashtags in your posts. The numbers of these hashtags might be low, yet they will pique the interest of people who follow them.
Let's say your post is related to Harry Potter, and you add the hashtag #potterhead or #hogwarts; then, it is likely to grab the attention of all the Harry Potter fans who are following or searching for the same hashtag.
You can even break down the topic by using specific hashtags to sound more relatable. For example, you might use trendy hashtags such as #drama and #romance, although you can explore topic-specific hashtags #korea, #kdramalove, #kdramafans, or perhaps even more niche.
How Do Instagram Hashtags Drive Business Results?
Assuming you want to grow your business with Instagram marketing, hashtags should be marked at the top of your list, as they are key to your success. Below is a list of ways you can run down to get visibility amongst your target audience.
Adding location to your posts.
Putting up trending music from Instagram's library in your stories and reels.
Running paid ads.
Using relevant hashtags in your posts, reels, and stories.
Hashtags operate as a keyword and help the Instagram algorithm comprehend better what your content is about, thereby escalating your growth. On top of that, Instagram hashtags assist users in finding a solution to their issues, determining a cause, learning about a product or service, and much more.
To conclude, Instagram hashtags can be a significant approach to drive results via;
Targeting the right audience
Increasing brand awareness
Extending your reach
This is only possible with a top-notch strategy and by being attentive to some rules. This brings us to our next topic - How to use Instagram hashtags in social media marketing.
How to Use Instagram Hashtags in Social Media Marketing?
1. Be Creative - Be creative with hashtags at the same time; make sure not to overdo it, as obscure hashtags can only get you so far. Suppose you are not a world-famous brand like Apple or Samsung; you won't be able to acquire anything much out of it. Despite that, you can create unique hashtags when encouraging users to an event or sketch a specific cause.
2. Be mindful of your goal - Here are a few hashtag categories that outline different purposes.
Branded Hashtag - Working with branded hashtags is a fantastic way to promote your brand and endorse users to tag you. You will likely gain a social media presence and form an archive of user-generated content.
Niche Hashtag - Niche hashtags are relatively specific and peculiar. When you uncover particular hashtags, you target an audience who search for similar products or services to those you offer. Niche hashtags allow you to identify potential followers; parallel to that, you can keep track of your competitors.
Industry Hashtag - Industry-related hashtags are one smart option to increase new followers on your social media. Usually, these tags are generic and share broader coverage to amplify the brand's reach.
Location Hashtag - Social media platforms allow users to connect with their target audience based on geo-location features. When it comes to location hashtags, they will enable you to include multiple locations, which in turn increases the targeted geo-markets.
     To utilize hashtags better, users are suggested to prioritize location-centric hashtags instead of just focusing on generic ones.
Trending Hashtags - When paired with trending hashtags, seasonal and campaign posts are a perfect way to jazz up your social media strategy boost your business. They might not hold a direct correlation with your brand; nevertheless, you can exercise them to elevate your brand, bring out a distinct identity, support a cause, celebrate festivities, and so forth.
Popular hashtags - A notable aspect of popular hashtags is that they never go out of season. Millions of users use these hashtags in their posts, making them stick throughout the year. Online presence over these hashtags might seem a tough nut to track, but with proper engagement, you can possibly be pinned amongst the "Top Posts" hashtags, which would explode your reach in the most effective way.
3. Keep it Short and Sweet - Keeping your hashtag short and simple is of paramount importance. Create an uncomplicated hashtag owing to fact that the audience can easily comprehend and implement them. The longer the hashtag, the greater the chance of the audience making a typing error and losing substantial information.
4. A Big No-No to Same Hashtags - Just like every post manifolds a peculiar story, your hashtags should do the same. It is crucial to create social media content pillars and assign a specific hashtag list for the same.
How Do You Find the Right Hashtags?
Initially, you might feel overwhelmed by the idea of using 30 hashtags per post, especially when you can't use the same range of hashtags in every post. To maintain consistency on your Instagram account, you must start devising an extensive range of libraries with all the suitable hashtags related to subjects you will be covering on your social media. 
Map hashtags for your brand using these pointers;
Look for relevant hashtags using social media. Type in a keyword appropriate to your post in the search bar. Then the online platform will feature a list of hashtags you can add to the post caption. 
Scan through the hashtags used by influencers within your industry. 
Check out the posts of your competitors and the hashtags they use. 
Look for posts with higher visibility hashtags on the internet and see what other hashtags they target in their posts and whether they can add any value to your content.
These are some tools that will aid you in generating hashtags;
Instagram Hashtag Generator
Iconsquare
Hashtagify 
RiteTag
Tagsfinder
Bundle Post
Final Verdict
We hope this article is informative and guides you in unraveling the top Instagram hashtags for your business. Always remember that your business needs a smart hashtag strategy to achieve remarkable heights. You must know which and where to use them and try adding new ones to your library.
In the end, we would like to conclude that the best way to take your social media to the next level is to hire a social media management company that can track the success of your Instagram hashtags and perform all the jobs for you while you are busy attending to other business affairs. These team experts will alienate your presence by implementing effective brainstorming strategies.