As the leaves turn. The air cools, we know Halloween, with its hauntingly fun spirit, is just around the corner! It's more than just a festive time; it's a fantastic opportunity to engage your social media audience with creative, themed content.
From its ancient origins as a solemn religious observance, Halloween has morphed over the centuries into a largely secular celebration of costumes, candy, and community.
And there's no better way to plan, create, and schedule your spine-tingling posts than with Viralpep, your comprehensive social media management tool. Let's dive into maximizing your social media content this Halloween season!
Mastering the Art of Social Media Content Creation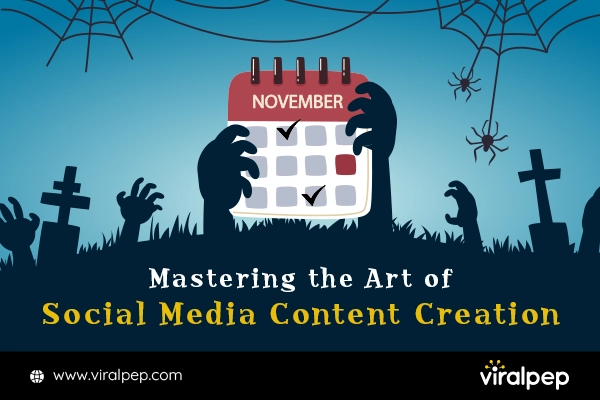 Understand Your Audience
Kickstart your Halloween content planning by diving into your audience's demographics and preferences using Viralpep's advanced analytics. Are they into frightful horror or charming spooks? Tailor your content to match their tastes, ensuring higher engagement rates.
Creativity is Key
Halloween is all about imagination - from costumes to eerie decor. Employ this creativity in your posts. Host costume contests, share spine-chilling graphics, or invite your audience to a virtual haunted house tour. Use Viralpep to brainstorm with your team and bring these innovative ideas to (after)life!
Interactive Content
Engagement spikes when your audience can participate. Craft Halloween-themed polls, quizzes, or "choose your adventure" stories. Monitor interactions and responses through Viralpep, using these insights to drive future content strategies.
Consistency and Scheduling
The anticipation of Halloween grows as the big day approaches. Maintain a consistent posting schedule with Viralpep, planning your content calendar in advance. Automate your posts to go live at peak engagement hours, keeping your audience spellbound!

From Creation to Engagement: Mastering Halloween Buzz with Viralpep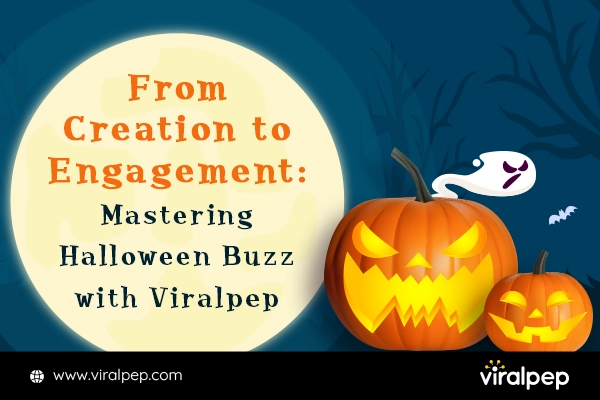 Crafting the Perfect Post
Whether it's Facebook, Instagram, LinkedIn, Twitter, or Pinterest, Viralpep's versatile 'Create Post' feature has got you covered. Share your Halloween excitement with perfectly timed posts using captivating images or videos of up to 400MB. What's more, with the 'Manage Drafts' feature, you can save your spooky ideas as drafts and keep refining them until they're ready to bewitch your audience!
Stories, Reels, and Beyond
Elevate your audience's experience with immersive stories on Facebook and Instagram or engage them with captivating reels. Showcase behind-the-scenes costume preparations or your pumpkin carving skills, making your brand personable and relatable!
Concise Communication with URL Shortener
Share your favorite Halloween articles, blog posts, or products with Viralpep's URL Shortener. No more messy, long URLs. Just short, neat links that take your audience straight to the treat!
Instant Sharing and Scheduling
Found something exciting and Halloween-worthy? Share it instantly with your followers across platforms. Better yet, why not schedule a series of thematic posts leading up to the big night? With Viralpep, you can do both with ease.
Read also: Reasons Why Content Scheduling Makes Social Media Marketing Efficient
Meta Magic and Tagging Triumph
Extract the most enticing meta details from any URL with Viralpep, ensuring your shared content is as informative as it is engaging. Plus, don't forget to use tags! They're not just for witches; they help the right audience find your cauldron of Halloween goodies.
Diverse Post Types and Character Limits
Whether it's a bone-chilling Halloween tale or a quick festive announcement, Viralpep supports different post types and allows you to set character limits, ensuring your message is clear and platform-appropriate.
GIFs, Photos, and Pins – Oh My!
Visuals are the lifeblood of social media. With Viralpep, share the spirit of Halloween with vibrant photos, spooky GIFs, or create detailed pins for Pinterest. After all, a picture is worth a thousand screams!
Read also: Top Image Editing Tools that Make You Look Like a Pro

Bewitching Content Ideas for Pre-Halloween Buzz
Countdown to Halloween
Ignite excitement with a daily countdown to Halloween. Share fun facts, trivia, or flash sales related to the holiday. Schedule the series through Viralpep, ensuring you never miss a day!
Behind-the-Scenes Magic
Give your audience a sneak peek into your Halloween prep. Decorating your workspace? Choosing a costume? Capture these moments and schedule them across your social platforms with Viralpep, making your audience feel part of the process.
Frighteningly Good Deals
Entice your audience with exclusive Halloween deals or themed products. Plan a campaign with captivating graphics and catchy copy, and let Viralpep take care of the scheduling and performance tracking.
Tell Tales from the Crypt
People love sharing personal stories and traditions. Encourage your followers to share their eerie experiences or beloved Halloween customs. Engage with these posts and re-share the best ones, building a community of Halloween enthusiasts.
Teasers and Sneak Peeks
Are you planning a special Halloween event or product launch? Drop mysterious teasers and exclusive previews. Coordinate a multi-platform blast using Viralpep and watch the anticipation go viral!

Conclusion
Mastering social media content creation is a ride less spooky and more fun with Viralpep. Its features are designed not just to simplify, but to amplify your social media presence. This Halloween, enchant your audience with spellbinding content, all while managing it like a pro with Viralpep. Ready to make some magic?
Seasonal content, especially for a holiday as spirited as Halloween, is a potent engagement catalyst. It resonates with the audience's current mindset and interests, creating a shared experience that fosters community.
Viralpep streamlines this process, from the germination of spooky ideas to the scheduling of your bewitching content. Ready to concoct your Halloween social media brew? Start your cauldron with Viralpep today!
FAQs
What is Viralpep?
Viralpep is a comprehensive social media management tool that allows users to plan, create, and schedule their social media content efficiently and effectively, all from one platform.
How can Viralpep enhance my Halloween social media content?
Viralpep offers features like advanced analytics to understand your audience, a 'Create Post' feature for crafting and scheduling content, and various post-type support, making it ideal for rolling out an engaging Halloween content strategy.
Can I schedule posts in advance with Viralpep?
Yes, Viralpep allows users to automate their posting schedule, enabling them to plan content calendars in advance and publish posts at peak engagement hours, perfect for building anticipation for Halloween!
Does Viralpep support multimedia posts?
Absolutely. With Viralpep, you can enhance your posts with captivating images, videos up to 400MB, spooky GIFs, and detailed Pinterest pins to capture the Halloween spirit.
What kind of interactive content can I create with Viralpep for Halloween?
You can craft Halloween-themed polls, quizzes, and "choose your adventure" stories to boost engagement. Viralpep allows you to monitor interactions and use these insights for future content strategies.
Can I share posts across different platforms with Viralpep?
Yes, Viralpep supports multi-platform sharing, allowing you to post content simultaneously on platforms like Facebook, Instagram, LinkedIn, Twitter, and Pinterest, ensuring your Halloween message is widespread.
How does the URL Shortener feature work on Viralpep?
Viralpep's URL Shortener enables you to share neat, concise URLs instead of long, cluttered links, directing your audience straight to your Halloween articles, blog posts, or products with just one click.
Is there a way to save draft posts on Viralpep?
Yes, with the 'Manage Drafts' feature, you can save your Halloween post ideas as drafts and continue refining them until they're ready to go live.
Can Viralpep help me with post performance analytics?
Definitely. Viralpep provides advanced analytics that helps you track engagement and interactions on your posts, providing valuable insights for your current and future Halloween content strategies.
How can Viralpep assist in creating community engagement around Halloween?
By facilitating the sharing of personal stories, hosting costume contests, or sharing behind-the-scenes preparations, Viralpep helps you build a community of engaged followers sharing a common interest in Halloween festivities.