'Social media management tool' is a phrase that has gained popularity at an exponential rate. And why shouldn't it? After all, it encourages the business to expand on various social platform, which is the trend these days.
But are you using the right tool for managing your social profiles? Have you ever realized the number of compromises you make subconsciously while using the social management tool? For instance, waiting for the team to resolve your queries, losing hours in finding the data important to you and others.
Is your answer a resounding no to the first and yes to the second question? Well, here is the ideal solution – 'Viralpep'. Check out what makes Viralpep an amazing social media scheduling and posting tool for your business.
1. Your Destination for Cheapest Plans
Do you often replace the word 'costly' with 'investment' to justify the heavy expenditure you incur for marketing and managing your business?
If your answer is affirmative, it's about time for you to abandon this habit and look beyond the perception you have framed about the unavailability of cheap plans for managing your social media profiles.
Below is an image consisting of plans provided by Viralpep: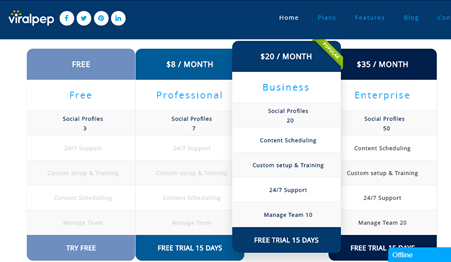 Viralpep is almost synonymous with free social media management tool. It provides the most competitive plans online without you having to compromise on the efficiency attribute. So, manage social media accounts without splurging anymore.
2. Displays only What's Important
Ever faced a situation where you paid for a particular plan and received a web of confusing data which make your social media dashboard all messy, leaving the important content out of your sight?
Annoying. Isn't it?
With Viralpep, this situation won't ever arise. We believe in the maxim – 'Time is Money' and provide only what is and what might be essential for you. This ultimately helps you to save your time by finding what you are looking for without any fuss.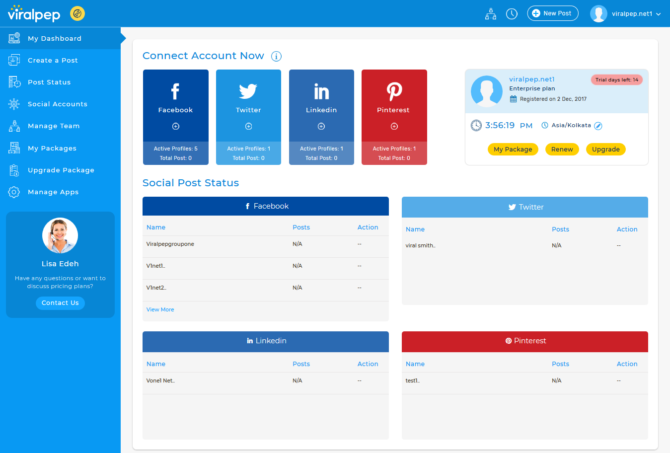 3. Easy to understand & Easier to use
Is your social media tool giving you a hard time with its perplexing features? It is high time you switch to another tool.
Life is complicated enough, don't let the social media posting tool add to your complications.
Using Viralpep is indeed easier done than said. Manage multiple social media accounts of your business single-handed without any help of the outsider.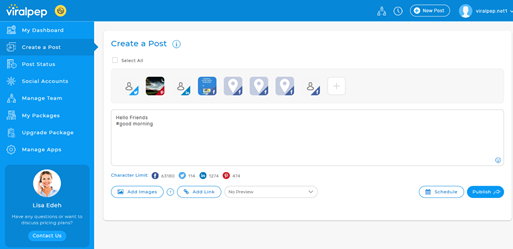 It is extremely easy to understand the structure and easier to use the features of Viralpep like posting and scheduling. You can also check the status of your post: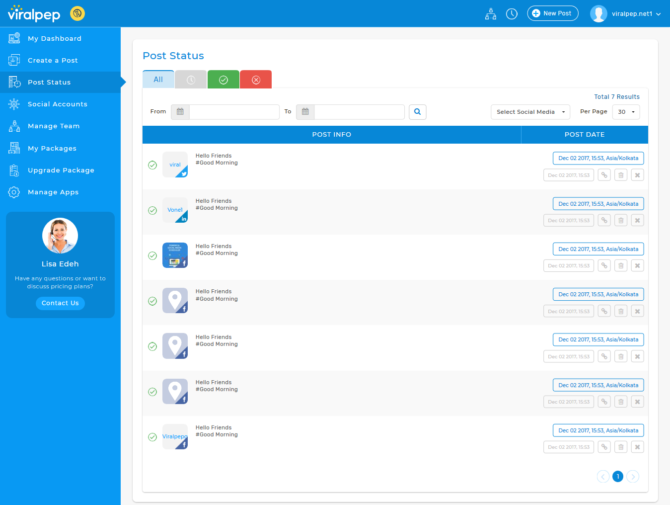 In case, you face any trouble, our training program will set you clear on everything.
4. Stays with you 24×7
Landed in the midst of some glitch in your social management scheduling tool and received a delayed or no reply from the support team?
That's the last thing you'd want while on an important social media mission for your business.
Stay immune to this problem by choosing Viralpep. Our support team is available 24×7 for our users.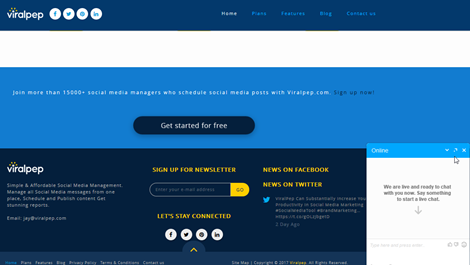 Need an instant reply with a solution? Opt for a live chat and share your concerns. You can also email your queries.
5. IT background to Look after You
Don't exhaust yourself by waiting for the technical assistance from your tool's support team that hardly arrives on time! In this fast-paced world, waiting has become a thing of past.
Technical or non-technical, our Viralpep team will guide you seamlessly to solve the issues you are facing.
Social media management is unquestionably important but choosing the right tool is an essential attribute that ensures the success of your hard-worked social media strategy. So, see to it that you make the right choice by picking Viralpep as your strategy executing platform.