Man is a visual creature!
A picture speaks a thousand words!
And, many such phrases will stay relevant for years to come now more than ever as we live in the age of social media!
Images, images, and images, be it memes, infographics, product images, and much more. Almost all social media marketers use plenty of visual content to engage with their audience, and quality photo editing tools are the need of the hour. If you struggle to find the best photo editing tools, this list will come in handy.
To ease your struggle, we have compiled a list of the 6 best photo editors online. The graphics have to be creative, out of the box, that makes your audience like and share your content. A unique photo post helps reinforce, transmit and emphasize your message.
6 Best Photo Editing Tools Online for Free
Let's dive into the list of the most useful and popular that help skyrocket your reach on all social media platforms.
Pixlr is an ecosystem that comprises Pixlr Pro, Pixlr Editor, Pixlr X, and Pixlr Express. The photo editor is a tough cookie to break for first-time users, and its user interface is similar to Photoshop.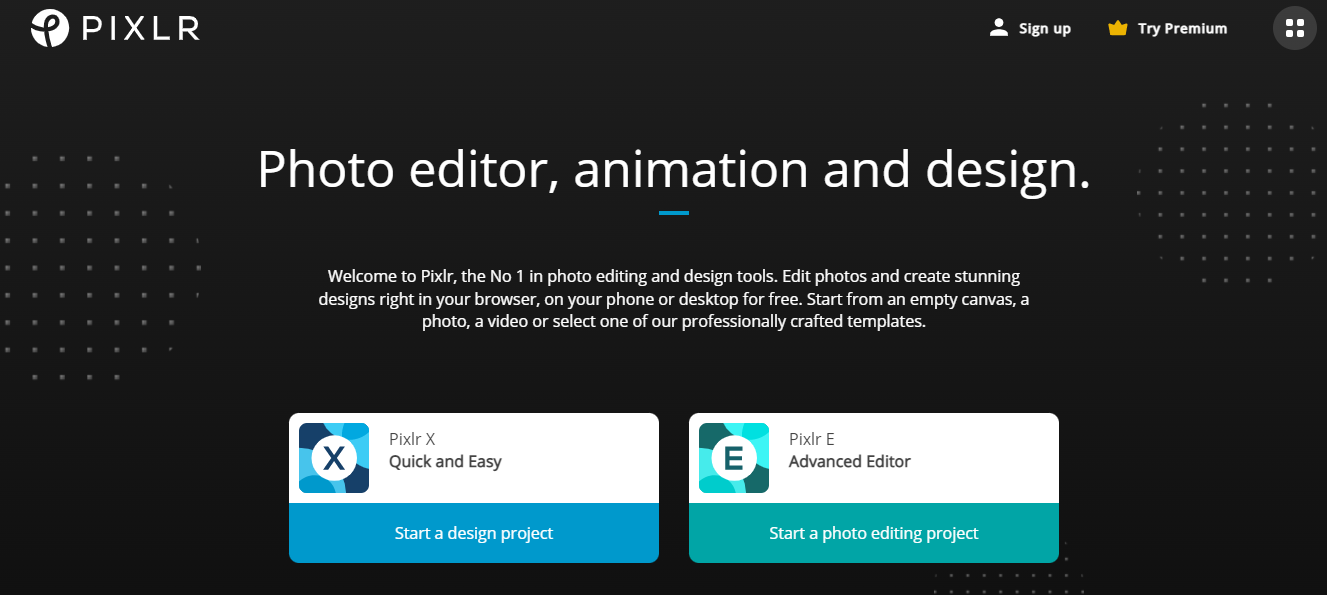 The photo editor is designed for basic portrait correction, advanced color grading, drawing, and graphic design. There are several automatic features like layers, brushes, advanced effects, curves, third-party plugin support, etc.
Pros:
Most advanced photo editing tool and offers incredible Photoshop features for free.
Highly customizable interface
Portable/Mobile
Detailed filters, layers, and adjustments.
Opens photos from desktop or URLs
Cons:
Pixlr requires Flash to run.
Ads can be distracting.
Pricing & Platforms
Platforms: Online, Windows, Mac OS, Android, iOS
Free Version: Available
Premium Pack - $4.90 (If you pay yearly)
Creative Pack - $14.99 (If you pay yearly)
BeFunky is a robust and simultaneously an easy to use Photo Editor, Collage Maker, and Graphic Designer for the web and social media platforms.

A one-stop platform for hundreds of exhaustively customizable templates, an extensive tool library, and stunning design elements to choose from. BeFunky is an intuitive mobile Photo Editor for iOS, Android, and the web.
Pros:
Drag and drop feature that makes it easy to use.
No registration or account is required.
Upload multiple photos simultaneously
You can use full-screen mode while editing a photo.
Create, edit and share your collage.
Download photos directly from the stream
Cons:
Frequent ads
You will be reminded to upgrade to a paid version if you want to use certain features.
Access to additional content on the mobile app requires purchasing.
Pricing & Platforms
Platforms: Online, Windows, Mac OS, Android, iOS
Free Version: Available
Befunky Plus: $4.99/month (If you pay yearly)
Canva is yet another popular and free photo editing tool that helps you create beautiful and unique photos and other visual content. Even if you're not technically sound or a one-person social media marketer, Canva comes off as easy-to-use software.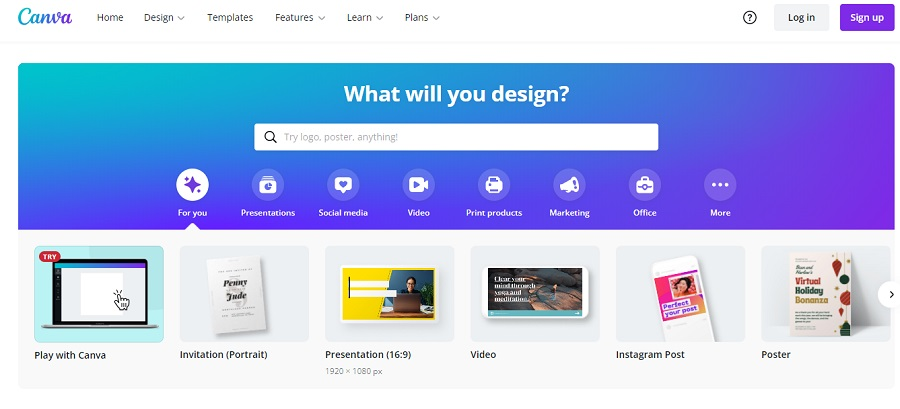 You can easily add interesting animation, videos from the vast library of options, amazing fonts, graphical elements, and filters that make your content, be it pictures, or infographics appealing.
Pros:
The free version gives you access to brilliant features that include filters, fonts, videos, and animation.
All social media platform post formats are available.
Upload & download multiple photos simultaneously
Access to compelling icons, shapes, and stickers.
Drag-and-drop editor
Cons:
You cannot create something creative from scratch.
Limited features/filters to enhance photos.
You cannot use full-screen mode to edit the photos; it is 'view' only.
Pricing & Platforms
Platforms: Online, Windows, Mac OS, Android, iOS
Free Version: Available
Paid Version: $12.95/month
Fotor is an excellent image editing tool packed with great image-enhancing tools and filters that make your projects extraordinary. Simply put, it is an image editing, collage making, and design creating platform.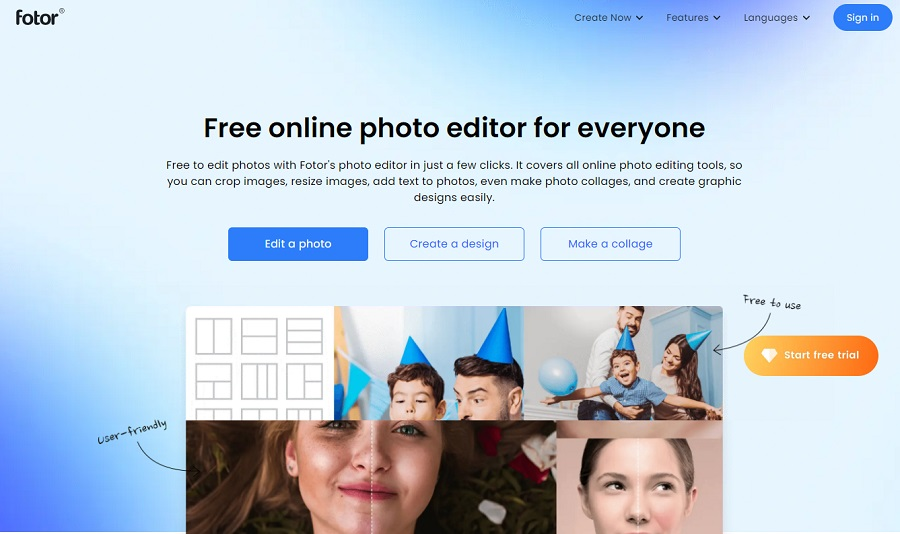 Photographers - amateur or professional and creative individuals love Fotor. It is packed with one-click filters devised to improve your pictures based on the conditions in which they were taken and the subject. For example, artificial lighting, sunset, portrait, landscape, and theater. Another amazing feature is that it supports all popular image file formats and provides RAW file processing.
Pros:
Ability to duplicate and save your design as an ad set.
It allows you to save your image in a variety of file types.
Simple and user-friendly interface
Stunning library of filters and effects for editing photos and faces.
Cons:
Not an effective tool for drawing/designing
No brushes
Pricing & Platforms
Platforms: Windows, Mac, WebApp
Free Version: Available
Fotor Pro: $8.99/month
Fotor Pro Plus: $19.99/month
Lunapic is yet another very popular free image editing tool. It is loaded with myriad tools to edit any photo and deliver the precise effect you have a vision for.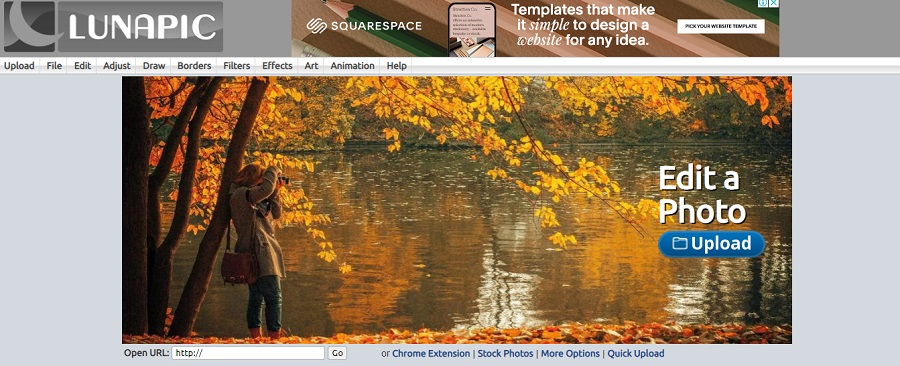 The best part is that you don't have to register or sign up. Just visit the website and effortlessly begin using the intuitive platform. Even newbies with no experience in photo editing can easily create amazing photos and images delivering professional quality. It lets you crop, resize, make an object transparent, add text, frames, filters, effects, art, draw, adjust, animate, and do numerous other things with the photo.
Pros:
Hundreds of brilliant animation effects are available.
Detailed Undo history.
Comprehensive Help, Tutorial, and FAQ section available
You can edit your picture and directly post it on social media platforms.
It also allows you to sketch and design.
Cons:
No real-time preview for photo adjustment tools
Pricing & Platforms
Platforms: Online
Free Version: Available
Img2go offers arrays of options for editing and enhancing images. It is highly versatile as you can convert different formats from and to images and easily create an animated GIF from a video. You can even add text and overlays.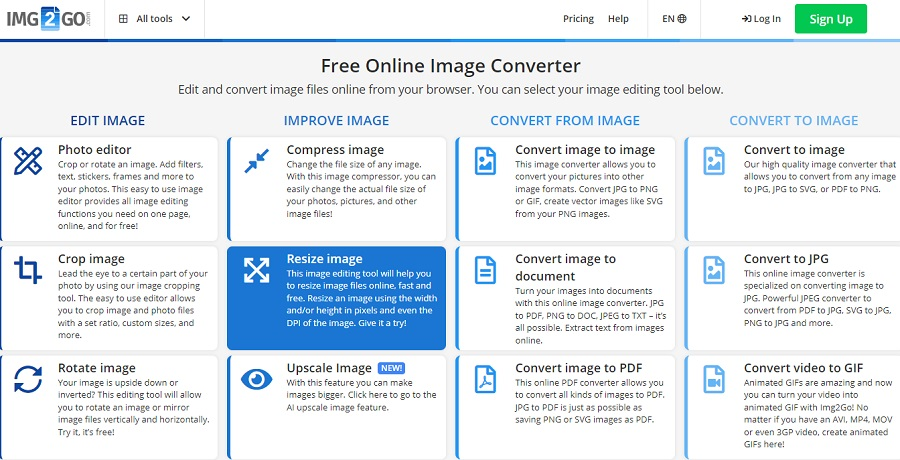 Pros:
Take advantage of Cloud Storage
Import-Export Option
Choose from plenty of fantastic effects, filters, and text tools
Enhancement Tools
Transform tools
Cons:
No built-in templates
No social media integration
Pricing & Platforms
Platforms: Online
Free Version: Available
Premium: $6.50 USD / month
To wrap things up
Every photo editing tool mentioned above has many great features and a few setbacks, but they deliver great results based on your requirement.
One important fact you should not lose sight of is that picture optimization is the key to succeeding on social media. Design your creatives from the very perspective of your audience. What would appeal to you if you were the audience?
On that note, may the light be with you!