Introduction
Entrepreneurship is beyond the butterflies you feel in your stomach. With competitors breathing down their necks, current-age entrepreneurs and businesses at large need to keep themselves on their toes and, specifically, their ears to the ground if they need to survive, let alone succeed.
And one of the safest bets that businesses can leverage in the current dog-eat-dog scenario while keeping their ears glued to the ground is social media.
In fact, social media marketing is an indispensable arrow in your digital marketing quicker that can make or break businesses, especially with the emergence of social media listening tools.
For the unversed, through social media listening tools, you can keep track of your brand mentions on different social media channels. And not just your brand mentions; it helps you find out what your competitors are up to as well.
So, no matter what, businesses must prioritize social media listening strategy. There are several social media tools that companies could use in their endeavor to find valuable insights into what customers want from their businesses.
In fact, if you know how to use it properly, you'll find incredible customer data in real time. However, that's just one part of the story. Another part is the intersection of AI with social media listening tools helps predict consumer buying behavior, just like Amazon and Netflix do.
The AI-powered social media listening tools harness customer data to make recommendations.
AI-powered Tools for Social Listening and How it Benefits at large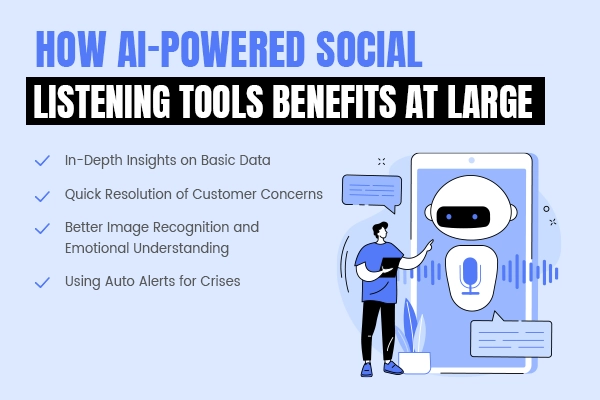 As mentioned above, if you are a business, Social Media Listening tools are not something you can give a go-by. And now, with the emergence of AI-powered Social Media Listening, the keyword being AI here, you can take your social media analytics almost to the next level.
Let's read more about how AI-powered Social Listening Can Benefit Businesses Today
In-depth insights on Basic Data
As it turns out, social media companies are churning out millions and trillions of data day in and day out in the form of brand mentions, comments, likes, clicks, and so on. Plus, there are videos and photos as well.
Now the question is, how do you separate crucial actionable data from social media's vanity metrics? Sure, a simple social media listening tool without AI could help. However, if you want to understand the data better and leverage it to influence the buying decisions of your customers in a deep and personalized way, then AI social media tools can help you read between the lines and help you engage with the customers in a highly personalized way.
There are AI-powered listening tools like Digimind, Social Bakers, Brandwatch, and more that use deep learning technologies to better understand customer requirements and, in fact, track real-time conversations to offer daily meaningful insights to companies.
Instant Solutions to Simmering Customer Concerns
Needless to say, engaging with customers on social media is one surefire way to establish deep personal connections with them. Realizing the growing importance of social media in influencing customer lives, businesses are pairing customer support with social listening plans like never before.
Conversational chatbots on social media platforms, a part of the social listening tools, can proactively listen to customer queries and resolve issues 24/7, 365 days without any breaks.
Better Image Recognition and Emotional Understanding
Social listening tools paired with AI can even recognize images via Computer Vision. And, yes, not just the contents of the video or photo; you can even sense the emotional tone. Businesses can use this tool for social media sites such as Instagram and Pinterest.
Using Auto Alerts for Crises
Creating auto alerts for phrases suggesting crises is one good strategy for figuring out brand catastrophes. For instance, a mobile app development company can create alerts for terms like "app development mistakes," "app optimization mistakes," and so on so that companies can undertake damage-control measures before they become too hot to handle.
Top AI Social Media Listening Tools for Deep Personalization
Socialbakers

Socialbakers is one of the top-rated AI social media listening tools that can be used both for pre-sale and post-sale activities. Use it to track your audience base, competitors, content planning, and more regarding pre-sale activities.

Regarding post-sale activities, Socialbakers combines customer care and community management tools to improve customer engagement and ensure speedy redressal of customer issues.

More than anything, it provides in-depth insights regarding the success rate of different marketing campaigns and the ROI associated with the same, helping businesses boil down to the safest best.

If these were not enough, it also helps you sync up with influencers, manage all social media handles under one roof, and give a clear-cut analysis of organic and paid activities.

Brandwatch

Brandwatch is again one of the world's most popular social media listening tools powered by AI. In fact, it won't be wrong to claim it as the number one tool businesses depend on.

Want to know what makes it the number-one tool? In addition to accumulating and dissecting data from more than 80 million sources, whether it's blogs or customer reviews, the tool also offers 50+ filters, real-time charting of conversations, target segmentation, an intuitive interface, shareable dashboards, and so much more.

Further, the tool is equipped to offer sentiment analysis in several languages and then mark them as positive, negative, and neutral; thereby allowing them to prioritize their user engagement strategy. Plus, you can set notifications to alert for specific mentions.

The tool can perform the above functions perfectly, as ML and AI power it. Moreover, you can find influencers in your niche and join hands with them for brand growth. All these filters and exhaustive sourcing of social media data assist businesses to gain meaningful insights that help them design effective marketing campaigns.

Synthesio

This social media listening tool powered by AI captures social media intelligence from 195 countries in over 80 languages and performs sentiment analysis in over 20 languages.

You can take account of "likes, favorites, replies, retweets, and shares from different social media channels directly from the customizable Social Listening dashboards, including YouTube metrics. The tool also displays metadata about the content, author, and for that matter, even the tone.

Additionally, you can add widgets that provide you with high-level business intelligence regarding engagement rate, media value, and more.
Social Media Listening Tools Are the Sine Qua Non for Businesses
Businesses need to be where their customers are. And, as we know, customers are nowhere but on the leading social media platforms. And unlike social monitoring, social media listening helps businesses understand the issues affecting them and, more importantly, how to tackle them head-on.
And, precisely for this reason, listening tools are more popular than mundane monitoring tools. Plus, it's not just an armchair critic; it helps you foresee crises, which enables you to play it safe and make informed decisions beforehand.