Your business can't survive without social media. Hence, it is essential to understand social media's importance and appropriate application to help your business excel in 2023.
Social media is much more than just marketing your products or services. What it can offer depends on how well you understand it. There is more to what social media is and can deliver in the future to establish your business as a market leader. Social media is the best technology offers you today for generating brand awareness and establishing yourself as an authority.
If used with a proper understanding and time-tested strategies, social media can augment your target audience and earn your business the reputation it deserves.
If you wish to leverage the power of social media and grow your business in 2023 exponentially, then this blog is for you.
Definition of social media
In real life, you can't limit social media to a small definition. Social media is an ocean of websites and apps that allow users to create and share content. Social media is more of a participative platform where your audience can interact with you and share their thoughts. Although the term usually refers to sites such as Facebook, Twitter, LinkedIn, and Instagram, it includes other platforms such as Snapchat and Pinterest.
Social media comes with a bunch of benefits. It can help you stay connected with friends, family, and business associates. Despite being a virtual world, social media allows you to make new friends, develop a network of followers, learn new things, and gain insights into different business avenues. Social media offers a window to stay current with the latest developments.
You may share your thoughts and ideas on current issues and participate in online debates and surveys. Using social media to promote your business, build your brand or raise awareness for a cause are masterstroke benefits of social media.
Caution:
Social media has pitfalls like any other tool, gadget, or technology. This information closely applies to the youths of today. Using social media excessively or inappropriately can lead to addiction, depression, isolation, cyberbullying, and other social problems. Psychosomatic disorders or ailments attribute their existence to excess and unrestrained use of social media. Therefore, it is important to use social media with accountability and responsibility.
Importance of social media in the modern world
How can you underestimate the importance of social media in this modern world? In a time when people are increasingly connected online, social media provides a valuable catalytic platform to engage and stay connected. By using social media, businesses and individuals can increase their reach, build relationships, and connect with new and potential customers.
If you wish to discover why social media is an important part of inbound marketing, talk to your digital marketing agency. Digital marketers can use social media to create and share content, helping to promote brand awareness and drive website traffic. Using social media effectively and wisely is important to maximize its benefits. Social media can be an invaluable asset for your business and its growth when used correctly.
Facebook, Twitter, LinkedIn, and Instagram have become integral to our lives, providing a constant flow of news, entertainment, and knowledge.
Grabbing your share of news, entertainment, and knowledge is an elementary part of social media. It is also a powerful tool for businesses and professionals. A well-executed social media strategy can help to increase brand awareness, build customer loyalty, drive sales, and earn great profits.
Businesses must focus on creating engaging content to maximize the potential of social media. It will encourage users to engage and interact. Doing so will help businesses reach a wider audience and ultimately improve their bottom line.
How social media benefits businesses
Social media has become inevitable for businesses in the modern world. It provides organizations with a wide range of benefits, from increased customer engagement to improved brand credibility. It also helps businesses reach a wider audience and build brand authority.
As social media enables increased customer engagement, companies can use it to communicate directly with customers, allowing them to build relationships, gain feedback, and improve customer service. Companies can also use social media to generate leads and boost sales.
Social media also provides businesses with an excellent platform to target specific audiences. Companies dealing in customized products or solutions can use social media to reach people with specific choices. Social media allows these companies to tailor their marketing message to target specific audiences.
Finally, social media is an excellent tool for building a brand. Companies can use social media to showcase their products and services, create campaigns, and build a strong brand presence. Social media also allows companies to track engagement and gain valuable insights into customer behavior.
Social Media Platforms
Overview of popular social media platforms
Who doesn't know what a social media platform is? With social media becoming an essential part of our daily routine, we have started developing our lifestyle in and around it.
These social media platforms help us connect with people, create content, share information, and express our views and opinions. With the internet upgrading to 5G, users can easily stay connected with their near and dear ones on the move. Various popular social media platforms, including Facebook, Instagram, Twitter, and YouTube, are available today.
Facebook is one of the most popular social media platforms, with over 2.6 billion users. It allows users to post photos, share stories, and connect with friends and family.
Instagram is another popular platform, with close to 1.5 billion users. It's primarily a visual platform allowing users to share photos, gifs, reels, and videos.
Twitter is a microblogging platform, with users limited to 280 characters per post. It's a great way to stay updated on the news and engage with others.
LinkedIn is a great platform for professionals and businesses alike. Professionals and businesses use LinkedIn as a networking tool to build relationships and create new business opportunities, while job seekers use it to find potential recruiters and employers.
YouTube is a popular video platform, with users sharing videos, shorts, live streams, and creating audio-video content.
No matter which social platform interests you, there are multiple opportunities to grow personally and professionally using today's social media platforms. Social platforms are more than generous to offer multiple options so that everyone can have their bite of happiness.
The unique benefits of each platform
Let's understand the benefits of each platform.
Facebook
Facebook is a great platform for creating a community, allowing users to create groups and events and even market their businesses. It also has a great newsfeed feature that lets users stay updated with events and news easily.
Additionally, Facebook Ads are one of the most powerful and cost-effective ways to reach potential customers.
Instagram
Instagram is a great platform for visual storytelling and content creation. Its features, like Instagram Stories, allow users to create and share creative content with their followers easily. Instagram's Explore tab can help users discover new accounts, content, and trends. Instagram Reels is a crazy feature. It allows users to create 15 minutes long videos and post it to their accounts. Users can voice their messages or share them for entertainment.
Twitter
Twitter is great for networking and connecting with other users and influencers. It is also a great platform for staying informed on the latest trends, news, and events. Twitter's hashtag feature also allows users to find and join conversations about topics that interest them quickly.
LinkedIn
LinkedIn is the perfect platform for professionals and businesses to build networks and develop relationships with potential customers and partners. It is also a great platform for job seekers to find recruiters and employers. LinkedIn's Groups feature also allows professionals to join existing conversations and start their own.
YouTube
YouTube is the perfect platform for creating and sharing video content. It is also great for hosting live streams and creating engaging content for viewers. Additionally, YouTube's powerful analytics allow creators to track their videos' performance and adjust their content to improve engagement. Users can create albums on their YouTube accounts and save the videos to them.
Most users access YouTube for entertainment, but YouTube is a marvelous platform for sharing knowledge and information.
Creating video content on YouTube fetches you more engagement than plain text content. Subject matter experts can create video tutorials or product (unboxing) guides on YouTube. Such videos can help your followers learn more about what you have to offer and also help you get new followers if you create content in easy to digest manner.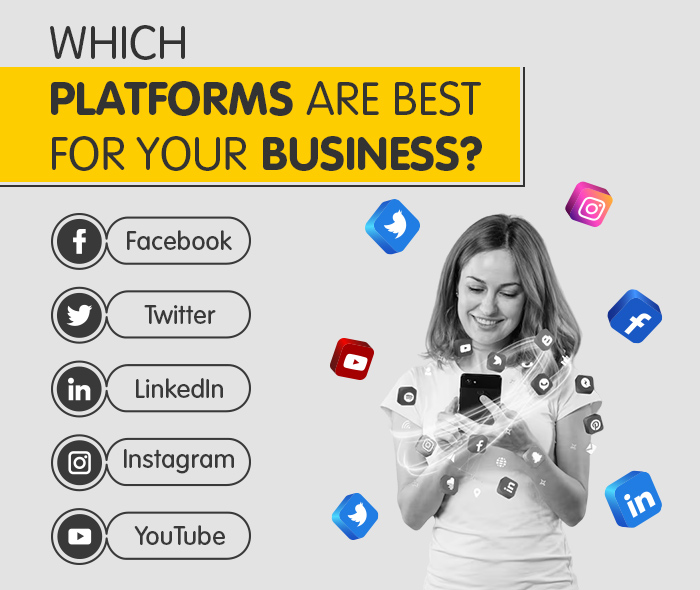 Which platforms are best for your business?
Social media is an essential platform for every business, small or big. It allows them to connect with customers, build relationships, expand their reach, and increase their visibility. With many different platforms, deciding which is right for your business can take time and effort. We are sharing a brief about a few business-oriented social media platforms:
Facebook
Since the last few decades, Facebook has earned popularity as the best social media platform. Facebook efficiently accommodates businesses of all sizes. It helps you connect with your current customers and reach out to potential customers. You can share updates, promotions, and other content to help you build relationships with your existing customers and find new ones.
Twitter
Twitter is a great platform for businesses, especially those that want to engage in customer service. It lets you quickly respond to customer inquiries, share relevant content, and build relationships.
LinkedIn
LinkedIn is the perfect platform for businesses looking to build relationships with other businesses and professionals. You can join relevant groups, share content, and network with other businesses in your industry.
Instagram
Instagram is great for businesses that want to reach a visual audience. It allows you to share photos and videos of your products, services, and events, which helps you build relationships with customers.
YouTube
YouTube is a great platform for businesses that want to showcase their products and services more visually and engagingly. You can create videos and use them to reach out to potential customers.
There is a lot to what social media platforms can do to promote business growth and make your brand successful. Considering your business goals, the company's vision, and the target audience, you can research to find the appropriate platforms for your business.
Establishing Your Business on Social Media
Establishing your business on social media requires different skill sets. Let us discuss them in brief.
Creating a social media strategy
Your primary step to creating a functional social media strategy for your business is understanding your audience. What are their interests? What platforms do they use? Once you have a good idea of your customers, you can create content and strategies that appeal to them.
Customize your social media strategy to suit your business's needs and goals successfully.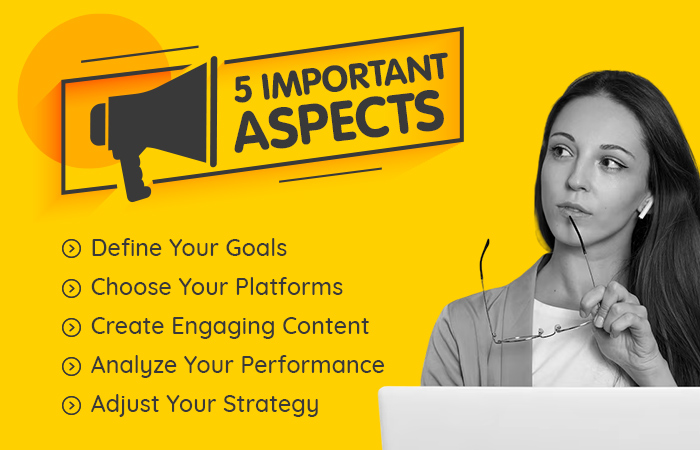 Here are 5 important aspects to consider while creating a social media strategy to establish your business on social media:
1. Define Your Goals
Before starting your social media strategy, you must clearly
understand your goals and objectives. Determine the objectives you want to achieve with your social media presence. Are you looking to increase brand awareness, generate leads, or drive sales? Knowing your goals will help you determine which social media platforms you should use and what content you should create and share.
2. Choose Your Platforms:
Once you know your goals, decide which social media platforms to use. Different platforms will suit different businesses. So, choose the most suitable platform for your target audience.
3. Create Engaging Content
Once you've chosen your platforms, it's time to start creating content. Aim to create content that is engaging, informative, and entertaining. You want to create content encouraging people to engage with your posts and share them with friends and followers.
4. Analyze Your Performance
It's important to track and analyze your performance. This analysis will help you understand which content is performing well and which needs revision. It will also help you identify areas that need improvement.
5. Adjust Your Strategy
As you track your performance, you may find that certain aspects of your social media strategy aren't performing as expected. In this case, reviewing, revising, adjusting your strategy, and making changes are important to ensure it is as effective as possible.
Creating a successful social media strategy takes time, effort, and dedication. By following these aspects, you can create a social media strategy to help you establish your business on social media and achieve your dream goals.
Identifying your target audience
Identifying your target audience is crucial in establishing your business on social media. Knowing who you are targeting will help you create a marketing strategy tailored to your target audience's needs and interests. It will also help you develop content that resonates with your target audience and allows you to understand the behavior of your followers better. Knowing and understanding your target audience can help you identify the most effective platforms to reach them. It will also maximize your marketing efforts and get the best return on investment.
Best practices for posting and engaging with followers
This section will discuss the best practices you must adopt while posting on social media to achieve the right amount of engagement with your followers.
Businesses should follow these 4 best practices when posting on social media and engaging with followers.
It is important to be strategic about the platforms you use. Not all platforms will be relevant to all businesses, so choosing the ones most likely to reach your target audience is important.
You should post regularly and consistently to keep your followers engaged.
Ensure your posts are interesting and valuable to your audience - no one appreciates wasting time on reading irrelevant or boring content. Social media features like hashtags, @mentions, and geotagging help you reach a wider audience and encourage more interaction. Maximize their use for more engagement.
Interacting with your audience will allow you to develop trust - answer their questions, respond to their comments, and run competitions or giveaways to keep them returning for more.
Following the above-stated best practices can increase social media engagement and help your organization reach a wider audience.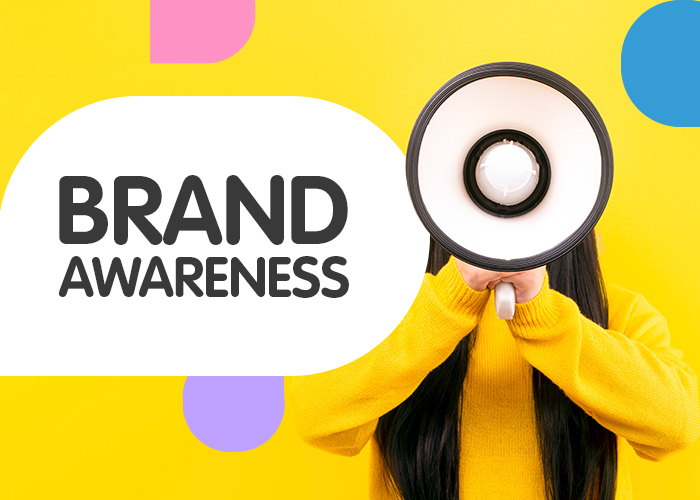 Building Brand Awareness
Reaching a wide and targeted audience through social media platforms is one of the best ways to increase brand awareness.
Businesses can increase visibility and improve customer engagement through targeted campaigns and content. Businesses can create relationships with their customers and build trust by creating content relevant to their target audience.
Your content must carry an element of freshness every time it is posted. If your content brings a difference to someone's life, consider it as your first step to success. Furthermore, businesses can use social media to engage with customers in meaningful dialogue to build relationships and develop loyalty. By utilizing the power of social media, businesses can effectively create brand awareness and reach more customers.
How can social media increase brand recognition?
Creating and sharing content on social media is one of the ways to enhance brand recognition. This can include anything from product updates and reviews to photos and videos of the brand's products. This content can be shared across various social media platforms, making it more likely to be seen by a wider audience.
Another way social media can help increase brand recognition is by promoting events and activities. This can include anything from product launches to meet-ups and social media contests. Promoting these events and activities allows brands to reach a broader audience and create a community around their products.
Social media can help increase brand recognition by creating and sharing content, promoting events and activities, and being visible across various platforms.
Create a strong online presence.
Establishing your online presence on social media must be a significant part of your marketing strategy. You can connect with potential buyers and partners by building a strong online presence, increasing brand awareness, and strengthening the trust element for your brand.
Consider implementing these suggestions to create a strong online presence for your organization:
1. Allow social media to bridge your company to your customers and partners
Use social media to connect with current and potential customers. Sharing the latest news, product information, and service development will attract customers and potential buyers to your social media handle. If this information interests your customers, they will happily follow your social media page.
Potential partners and business associates can be your great asset. Collaborate with them on joint marketing campaigns. Create a win-win situation for a healthy and long-lasting relationship. Ensure transparency in your transactions. Share information about your products and services, and discuss potential outcomes to benefit your business collaborators.
2. Use social media to build brand awareness
A brand is the first thing any buyer looks for. Only products that belong to a brand culture will be easily accepted in the market. So building brand awareness using social media gives a thorough boost to your business. Share your unique brand story. Highlight the benefits of using your products or services. Narrate the benefits as if they are the real solution to a problem.
3. Use social media to communicate your brand message
Let your brand messages flow amongst your followers. These messages are your brand vibrations and ensure your customers can relate to these vibrations. It will help generate an emotion of loyalty within your buyer circle. Communicate your brand message using social media to build a positive and powerful image for your business. Focus on key messages that resonate with your target audience.
4. Use social media to stay up to date with trends
Everyone loves being a trendsetter. But becoming a trendsetter is more challenging than said. Nevertheless, if you can't be a trendsetter, you can at least stay current with the prevailing trends in your business domain.
Use social media to track industry changes, learn about upcoming trends, and adapt to new marketing developments. Switch to proven strategies with solid logical foundations.
Leveraging social media for free advertising
Social media is a powerful tool easily accessible to businesses of any size. It helps you find and target a broader spectrum of audiences for free. Why pay for ads when you have a full-blown social media universe for free? Use this free opportunity to advertise your products, services, and brand to increase brand awareness, generate leads, and drive sales.
When done correctly, social media advertising can establish customer relationships, drive web traffic, and positively impact your business. Each social media platform is unique, and so is how to manage it. Understanding the different platforms in their perspectives is important to help you use them to your advantage. From creating engaging content to tracking analytics, you can use various strategies to leverage social media and maximize your marketing efforts.
Engaging with customers
If you use social media to engage with customers, you are progressing toward building great relations. Successful engagement results in a positive brand experience.
Responding to customer inquiries
Businesses can interact directly with customers through social media, respond to their questions and concerns, and gain valuable feedback. If you receive genuine feedback, insist upon thanking your customers for their time and efforts.
Make it a point to work on the suggested drawbacks. This strategy helps businesses understand their customer's needs and create more personalized solutions to match their requirements and resolve problems. Ideally, your solution must address your customer's pain area. Additionally, social media can help businesses grow their reach, engage with potential customers, and build loyalty among existing customers.
Defining a timeframe during which you or your team will respond to a customer's query is good practice. You might have to race against time to make your audience feel their concerns are paramount. If you still need to fetch a solution to the issue, at least update your user with a brief about the progress. Your response will always keep your customer happy and connected.
Encouraging customer feedback and reviews
Encouraging customer feedback and reviews is essential to maintaining a positive customer relationship and encouraging repeat business. By allowing customers to share their thoughts and experiences with your company, you can build trust and create a strong bond of loyalty.
In addition to providing valuable feedback, reviews help you identify the areas needing improvement. Gathering customer feedback in one place lets you quickly identify and address any issues affecting your customers' experience.
Make it easy for customers to leave feedback. Make it clear where customers can leave reviews and how long they will be visible.
Make it clear where customers can leave reviews and how long they will be visible. Offer a review incentive. Consider offering customers a discount, a free product, or another incentive for leaving a review. Follow up on reviews. Respond to positive and negative reviews and thank customers for their feedback. Educate your team about feedback and train them to respond within the stipulated timeframe.
There is no alternative to client satisfaction. A happy and satisfied customer is your best brand ambassador.
Building customer loyalty through social media
Customer loyalty is more about retaining your existing customers. It is the trust that motivates customers to buy your products or services. The essential aspect is that this trust must continue.
Loyalty is a respective term. If your company continues to deliver to your customer's expectations, he will never attempt to find your alternative. The day when you take him for granted and offer a sub-standard product, he might accept it, but he will never return for his next purchase. Every time a customer buys your product, thank him enough and promise yourself to offer him the best of the best - The best can be your product, service, or customer support.
Social media apps offer a great platform to stay connected with your customers. You can keep your clients informed of your latest items and promotions by connecting with them via social media. Building customer loyalty through social media is a great way to ensure your customers visit you again.
You can also create social media content tailored to your customer's interests. When your content interests them, they will be loyal to your brand. By creating a social media strategy focusing on customer loyalty (and satisfaction), you can ensure your business thrives long into the future.
Customer loyalty is a rare commodity; it takes effort and dedication.
Growing your audience
Creating engaging content is the most effective way to expand your family of followers on social media. Your content has to be relevant to your audience's choice and interest. Use social media to display and share your stories, images, and videos that connect with your followers. Use social media to promote your events, products, and services. Doing this will increase the chances of keeping your followers glued to what you offer them.
Tips for gaining followers
Here are 5 important tips/suggestions for gaining followers on social media.
Broaden your reach with hashtags. Using hashtags will help your content will gain better visibility on social media. Use specific hashtags to attract interested audiences and make them a part of your discussion.
Share interesting and original content. Avoid posting content that is just a restatement of what others have said. Share content that is unique and offers a new perspective on the topic. Stick to your domain of expertise and industry.
Use social media to build relationships with your followers. Respond to their comments and engage with them, making them feel appreciated and encouraging them to follow your account.
Your brand is significant as people know you by your brand. Your brand gives you a business identity. Use social media to promote your brand and connect with potential customers. Share your company's mission and vision, and offer free content or giveaways in exchange for following.
Use social media to connect with potential customers and understand their wants. It will help you create tailor-made content relevant to their wants and interests.
Using paid social media advertising
Use paid social media advertising to reach your target audience in several ways. One way is to run ads specifically tailored to a certain demographic. For example, if you sell kidswear for kids aged 6 to 8 years, you might run specifically geared ads. Your products are for the kids, but the parents are the target. Your ads might be targeted at a broader spectrum but tailored to a certain audience. Such ads are often referred to as "targeted ads."
Another way to use paid social media advertising is to run ads encouraging people to share your content in their network. For example, you might run an ad saying, "Share this ad to get a gift." When people share your content, you earn ad space on their social media profile, and their followers may see the ad. Using this strategy effectively gets your message out to a broader audience and has superior coverage.
Overall, paid social media advertising effectively reaches your target audience and encourages followers to share your content.
Expanding your reach through collaborations and partnerships
Social media platforms have become an increasingly powerful tool for businesses, allowing them to connect with their customers and build relationships with their target audiences. However, reaching many people through social media alone may take time and effort. One way to maximize these platforms' potential is to collaborate and partner with other brands, organizations, and influencers.
Partnering with other brands can be a great way to extend your reach and broaden your network. By working together, you can combine individual followers to create a larger audience pool. You can achieve this through sponsored posts, product giveaways, and influencer collaborations. Working with influencers is particularly effective, as they have a built-in audience of followers who are more likely to be interested in your product or service.
Collaborations with other organizations can also be beneficial for expanding your reach. This collaborative process will involve forming a joint venture, sponsoring events, or creating joint marketing campaigns. By collaborating with other organizations, you can tap into their existing network of followers and reach more people.
Collaborations and partnerships can be a great way to increase your reach on social media. To ensure long-lasting relationships with your target audience, you must work with other organizations, brands, and influencers and crack a mutually beneficial deal.
Measuring Success on Social Media
Measuring success on social media is difficult yet essential for any business. With the right metrics, you can track progress, identify areas of opportunity, and understand the impact of your campaigns.
You can also identify key performance indicators, analyze social media metrics, and adjust your strategy based on data. You must understand which metrics are most important and what truths they reveal.
Understanding the context of your industry and business goals is the key to measuring success on social media accurately.
Identifying key performance indicators (KPIs)
Social media marketing is essential to any marketing strategy, and identifying the right key performance indicators (KPIs) is key to measuring success. KPIs can help you evaluate the effectiveness of your social media efforts.
Consider your social media marketing strategy's objectives before setting KPIs. To enhance brand awareness, website traffic, or lead generation, you must choose the best KPIs to gauge progress by keeping your goals in sight.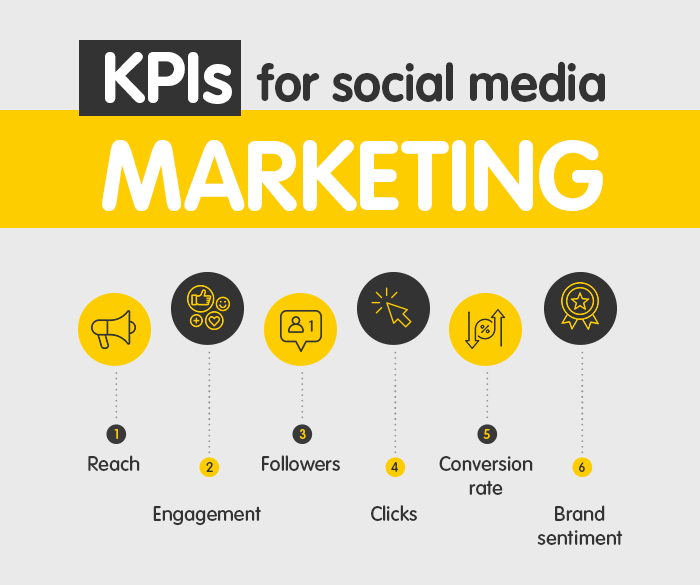 Check out some of the most commonly used KPIs for social media marketing:
Reach – How many people are exposed to your content?
Engagement – How many people interact with your content?
Followers – How many people are following your social media accounts?
Clicks – How many people are clicking through to your website from your social media posts?
Conversion rate – How many people are taking the desired action after viewing your content?
Brand sentiment – What is the overall sentiment towards your brand?
Analyzing social media metrics.
Analyzing social media metrics from a business perspective is essential for any company that wants to make the most of its digital presence. Social media platforms provide an invaluable opportunity for companies to reach out to customers and build relationships with them. By measuring the performance of their social media campaigns, companies can track their progress and make adjustments to improve their performance.
When analyzing social media metrics, companies should focus on key performance indicators (KPIs) such as followers, engagement, reach, impressions, and conversions. These metrics help companies understand how their content performs and which strategies most effectively achieve business objectives.
Knowing the number of followers is a great way to measure the size of a company's audience and the effectiveness of its content in attracting new followers. Engagement measures how much people engage with the content by liking, commenting, and sharing. A reach refers to the number of people viewing a particular content. Impressions measure how many times a piece of content has been seen. Finally, conversions track how many people took action, such as clicking a link or signing up for a service or product demo.
By analyzing these metrics, companies can gain valuable insights into their audiences' tastes, choices, and interests and the effectiveness of their content.
Adjusting your strategy based on data
Social media marketing has the power to build your brand, spread awareness, and connect with potential customers to increase your reach. However, the success of your social media marketing strategy depends on how well you use data to adjust your approach.
You must analyze your data to determine your best platforms. This data will help you decide the content that resonates with your audience and guide you toward optimizing your campaigns for maximum impact. Your data is awesome information that helps you redefine your social media efforts.
Keep a close eye on which social media platforms drive the most engagement. For example, if you see more engagement on Instagram than on Twitter, it is time to shift your focus and efforts to Instagram.
The type of content that fetches engagement is equally important. You must look at which type of content is performing the best. For example, consider creating more video content if video posts generate more engagement than text-based posts.
You can also use data to refine your targeting. Look at your analytics to determine what types of people engage with your content, such as age, gender, location, interests, etc. It can help you create more tailored campaigns and ensure that you're reaching the right people.
Finally, you should use data to track your progress. Each month, review your analytics to see which campaigns are performing the best and which fail. This outcome will clarify areas needing improvement so you can adjust your strategy, time, finance, and efforts accordingly.
Using data to restructure your social media marketing strategy ensures that your campaigns remain effective in maximizing your results to get the most out of your efforts.
Conclusion
Social media remains a key component of any successful business in 2023. It provides an effective platform for connecting with customers and other allied businesses and helps build brand recognition, boost sales, and generate revenue. By leveraging the power of social media, businesses can strengthen their customer relationships and ensure that their messages spread to a larger audience.
As technology evolves and advances, businesses must adapt to the new environment and stay ahead of the curve. This progression in the existing social media strategies will help your business thrive in the changing landscape.