Anyone who uses a social media scheduler need not be told about its vast benefits. A social media management tool is diverse, like people's requirements. What may be productive for a freelancer might not be useful for an IT firm.
Most management tools have plans like Free, Premium, and Professional. The names of the plans may differ depending on the company, but the functions remain more or less the same.
There are over 4.88 billion social media users across the globe, which accounts for 62% of the world's population. Moreover, 6 of 10 people on the planet have a social media account.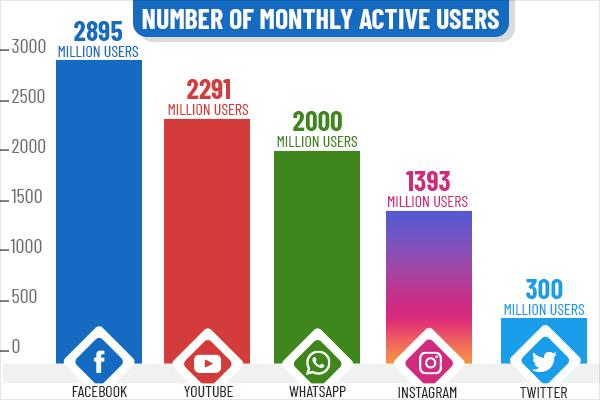 Being active on social media is necessary for 2021, not an option. You need to be on social media to develop a wide customer base and expand your reach.
You need to have a robust digital marketing plan, including a foolproof SEO strategy to target customers. With that being said, you can't deny that posting regularly and at the right time will deliver incredible results.
Viralpep has the perfect social media management tool for every organization. You have four plans to choose from - Free, Professional, Business, and the Enterprise plan. To begin with, you can opt for a basic plan (free plan) for your social media needs.
As time passes, you will have to upgrade your plan. Now, you would ask - Why should I upgrade to the business plan when the free plan does the job? Let's dive into the details right away.
Why Should You Upgrade Your Social Media Management Plan?
1. Social Media Profiles
The free plan allows you to only post for 3 social media profiles. On the other hand, you can handle 10 social media accounts with the business plan. When you expand your business and acquire more clients, you will need this feature.
2. Monthly Posting Limit
Using the free plan, you can only schedule 10 posts a month which is very little, especially when you have multiple clients. You can't tell your client that you need to move a post to next month because your free plan limits the number of posts that go out.
The business plan has no limits. You can send out as many posts as you want in a month. This feature lets you serve your clients with complete dedication and never miss crucial posts/deadlines.
On top of that, you can even schedule last-minute posts like a notice for a closed office, holiday greetings, events happening, or details regarding special discounts/vouchers/freebies/lucky draws, etc.
Sometimes, you can't anticipate such posts, and having posting limitations will greatly reduce your reach and hamper your ability to serve clients.
3. Team Management
Viralpep's free plan has zero team management features. Upgrading to the business plan improves team efficiency and productivity because you can use hierarchies and approval workflows for your social media tasks.
Every team member is assigned a specific role/task. The business plan's team management feature defines accountability. Review your posts, new updates, approve, reject and do a lot more with this exciting feature.
4. Unleash the power of Instagram
Facebook, Twitter, and other social media platforms may be saturated. They are ideal for companies that can invest in paid marketing, ads, etc. On the other hand, Instagram allows you to market your products/services, highlight your achievements and boost engagement at no cost.
Posting on Instagram is a must to compete with your rivals and stay relevant in the industry. Viralpep's free plan doesn't have a feature that enables you to post on Instagram, while the business plan does.
5. Support
Even though the Viralpep team puts a lot of hard work into creating innovative software, there may be times/days when it may not function properly.
It can happen to any social media management tool. Viralpep has a dedicated team to tackle such issues. They will provide you with valuable advice, answer your queries and resolve technical problems. Please note that the support feature is only available for paid plans, not free ones.
Imagine getting stuck in the middle of posting a plan. A few minutes/hours of downtime can lower your productivity and damage your reputation. Upgrading to the business plan can prevent such embarrassment and agony.
Final Thoughts
Upgrading from the free plan to the paid version requires you to pay some money, but the investment will be worth it. In a nutshell, the business version and other advanced plans offer features like team management, instant sharing, GIF support, URL shorteners, link preview, the option to post through various time zones, and much more.
Regardless of the size of your business and the nature of your requirements, Viralpep has the ideal social media management plan for you. Want to try our services before you take the plunge?
Enjoy a 15-days free trial and upgrade to the Professional, Business, or Enterprise plan later, as per your choice. With our yearly plans, you can save 20% or more. Double your social media traffic and save over 12+ hours a week.
Need more information about our services? Contact us at support@viralpep.com. We will be glad to assist you.