LinkedIn is a platform to connect with people in your industry and professional circles. LinkedIn Groups are no different.
They are an extension of the main LinkedIn platform but have more specific topics and discussions about performing.
LinkedIn Groups allow you to network with like-minded professionals and share information related to products or services they offer, which can benefit businesses planning to grow their customer base online.
WHAT IS A LINKEDIN GROUP?
LinkedIn Groups are private communities of like-minded professionals sharing their knowledge, thoughts, and new developments in their domain.
LinkedIn groups have become a powerful tool for business professionals to connect and exchange ideas, but they can also be a great way to help you grow your brand.
LinkedIn, a professional social network, provides a unique way to engage with people through your LinkedIn profile. Some of the best interactions and connections happen in smaller and closed groups. Smaller group size is the secret behind the success of LinkedIn groups. 
IMPORTANCE OF LINKEDIN GROUPS
The LinkedIn group is a powerful way to build your personal brand. If you are an active member of several groups, you will be seen as an expert within those fields. This increases the likelihood that people will follow your recommendations and view your content.
LinkedIn groups can also be used to network with other professionals in your field. You can share ideas or ask for advice from other group members when needed. In some cases, these connections may turn into potential leads or new opportunities for business growth.
You can use LinkedIn groups to promote your business and engage with your audience by posting updates about what's happening at the company or sharing relevant articles that might interest them (such as this one!). Think about how these posts will benefit both parties: you want more exposure for reaching a wider audience while providing value through useful information; they want interesting tidbits of knowledge from experts like yourself!
BENEFITS OF LINKEDIN GROUPS TO YOUR BUSINESS
LinkedIn Groups offer a superb medium to connect with others in your industry, learn what they're doing, and learn from them. And since they're on LinkedIn, there are many ways to use these groups beyond just sending messages or comments:
You can also share content with your group members by posting links to articles related to your industry and asking for feedback. The post's comments section is where conversations happen between people interested in the topic, so don't hesitate!
 
If you still need to decide about joining a group that interests you but has too few members (or none), consider starting one yourself. This will allow others in a similar position as yours to come together and exchange ideas on tackling their problems while benefiting from each other's experience.
 
Consider starting a group if you intend to make your LinkedIn profile more engaging and exciting. The best part about them is that they're easy to create: You need one unique idea to attract new members to the group. 
PICK YOUR NICHE.
Before creating a group, you must pick your favorite topic or niche to create your group's base. Discussing your brand will take you no further. 
If you want to onboard people to your group, do the following:
Discuss trends, industry, and upcoming developments in your business sector.
Always present your concepts in a way that raises curiosity and keeps the suspense intact.
Try making your discussion interactive. 
Having visuals onboard can create wonders. 
The topic or niche of your group must add value to your group members. Make them feel like an essential part of your group. 
To determine your favorite niche for the group, answer these 3 simple questions, and you are done.
What objectives have you decided on for this group?

Have you identified the pain areas of your group members?

What topics or ideas can your business relate to?

Important Information:
Before you begin creating your LinkedIn Group, keep the following information handy. It will make your group-creating process easier.
Group Title:
Group Logo:
Group Description:
Group Rules:
Group Membership:
A few simple steps:
1. Visit the Groups homepage.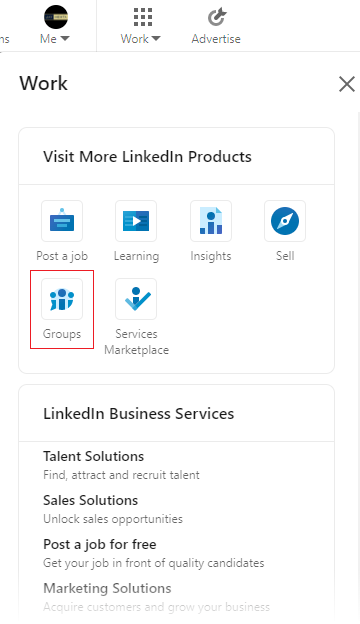 2. A pop-up form will appear when you click the Create Group button in the upper-right corner.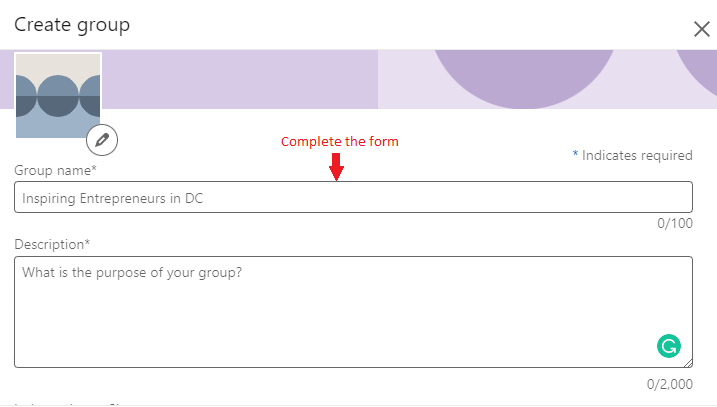 3.Complete the form that appears (Group name, Description, Industry (Optional), Location (Optional), Group rules (Optional), and Permissions).

4.Upload your group's logo and cover image using the edit icons.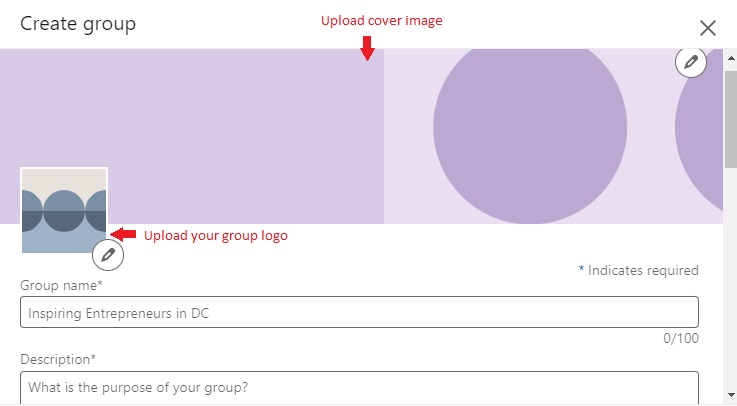 5. Now select Create.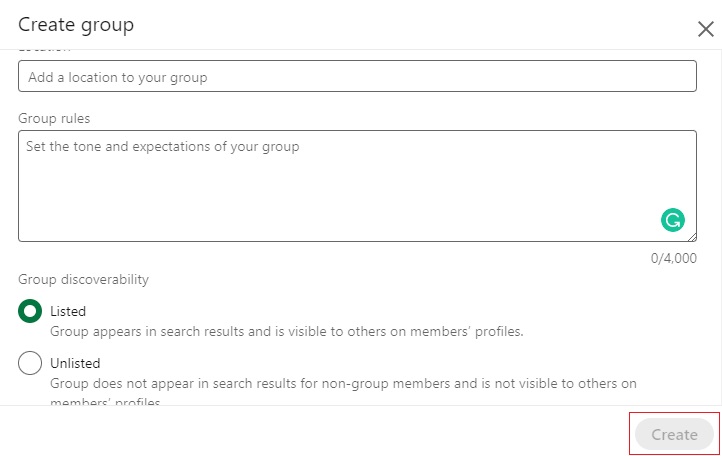 6.Now, your LinkedIn Group is ready.
CREATING A LINKEDIN GROUP
If your business can benefit from a LinkedIn Group, here are a few aspects to consider:
Select a topic of common concern or interest. For example, a pet-related group would be ideal for you if you're in the pet care industry and have many clients who have dogs and cats. The group can also discuss if certain topics are relevant (for example, how to keep cats off furniture).
 
Add members by inviting them individually or using their email list if they already have one.
 
Create an agenda for what people should post to contribute positively towards discussion within the community.
 
Set up a calendar of events relevant to your industry, such as conferences or seminars. Encourage members to attend these events and post their thoughts/reviews after they return.
 
Monitor the group regularly to ensure members post relevant content and keep an eye on any negative feedback or complaints. If there is a lot of activity in a group, then it's likely that it will be successful as long as you set clear guidelines from the beginning.
 
If you want to attract more members, consider making the group public so people can easily find it. You can also ask your existing clients if they want to join the group or send them an email invite.
 
Set guidelines for your group members.

Use English as your language to communicate. 

Maintain the respect of all group members. Be polite to all within the group.

Post only content that has relevance to the group's purpose.

Encourage healthy discussion; avoid arguments. Sharing insightful information on topics of common interest can keep the members engaged. 

Don't deviate from the agenda. Keep the communication short and crisp.
UTILIZE THE MESSAGE TEMPLATE FUNCTION
LinkedIn's message templates feature a great way to engage with group members. Customize your message to match the voice and tone of your brand. Once customized, group members receive these messages based on their interests. 
Personalize a template by clicking on Manage on your LinkedIn group's homepage, followed by Templates. Then click Create Template to personalize your message as required.
Conclusion
LinkedIn Groups are a great support to help connect with other professionals, experts, and novices for business growth. You can find groups related specifically to your industry or niche and general groups open for anyone who wants to join in for a discussion. It doesn't matter if you're starting or have been in business for years--LinkedIn Groups are for everyone who wishes to grow their business. So, create one today, start aligning with like-minded people in your industry, and see your business excel.