We are all adjusting to the new normal - be it in our professional or personal lives. As Work From Home is still being practiced worldwide, Viralpep has upgraded to the latest version with design and features that empower your brand and help increase its engagement.
In 2020, 4.34 million new business applications were submitted, a whopping 74% rise compared to 24.19% in 2019. The fact that the world experienced and continues to bear the impact of the COVID-19 pandemic. Yet it is the most significant increase in the past decade.
According to other latest statistics, there are 3.196 billion people actively using social networks. More and more people have used social networking sites during the lockdown.
So, you ask what the connection is between the two data above.
Simple, it is time NOW to get your brand online on various social media platforms for excellent traction and engagement. And to help you manage your brand's multiple social media profiles, Viralpep remains a perfect tool.
The New and Improved Viralpep - Five Awesome Changes
We are excited to roll out the changes we have worked on tenaciously for the past few weeks.
Minimalistic Design and Color theme
Feature-rich Dashboard
Social Media Post Review
Post Filtering Process
Ticket Support
1. Minimalistic Design and Color Theme
Everyone is a user/consumer. We always keep this in mind when we introduce changes or work on a feature. We have now modified the Viralpep's look and feel to enhance the user experience. We've carefully applied minimalist principles with fewer elements to improve and simplify your online interaction.
2. Feature-rich Dashboard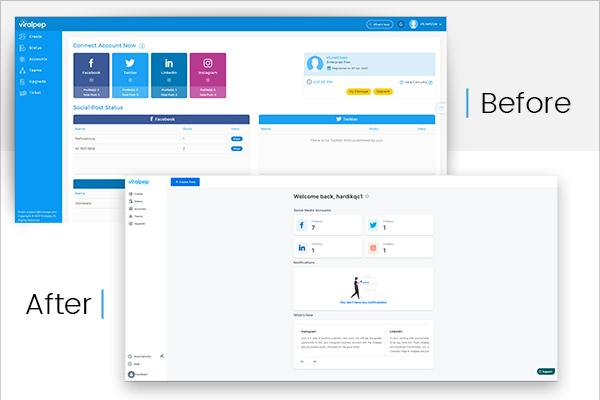 Active Social Media Accounts, Notifications, and What's New all under one roof.
Once you log into your Viralpep account, you will see the number of profiles you use on each social media platform along with Team approval. Additionally, the "What's New" section will keep you ahead of all small and big changes we implement in the Viralpep application. It will also showcase the Team approval notifications & package expiration date.
3. Social Media Post Review
To err is to human, but Preview is to perfection!
How cool is that!
You get to see the Preview of the post content and graphics, so you make final tweaks and adjust all the changes before you schedule them. The Preview is available for all social media platforms that your brand has a profile on.
New Design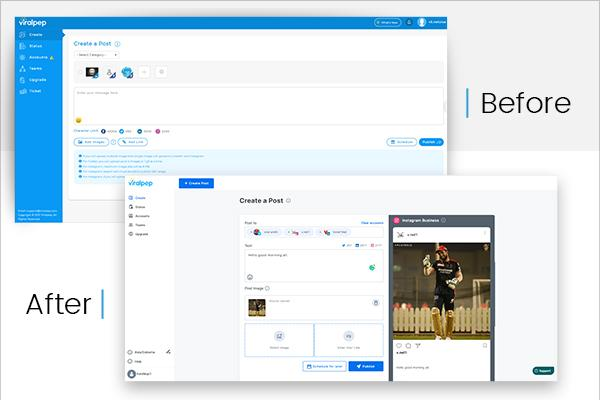 Furthermore, you can create the post directly in the Viralpep application with a live character count specific to each social media platform. Now you also get single-click image upload, improvised the URL shorten tool, and link preview.
4. Post Filtering Process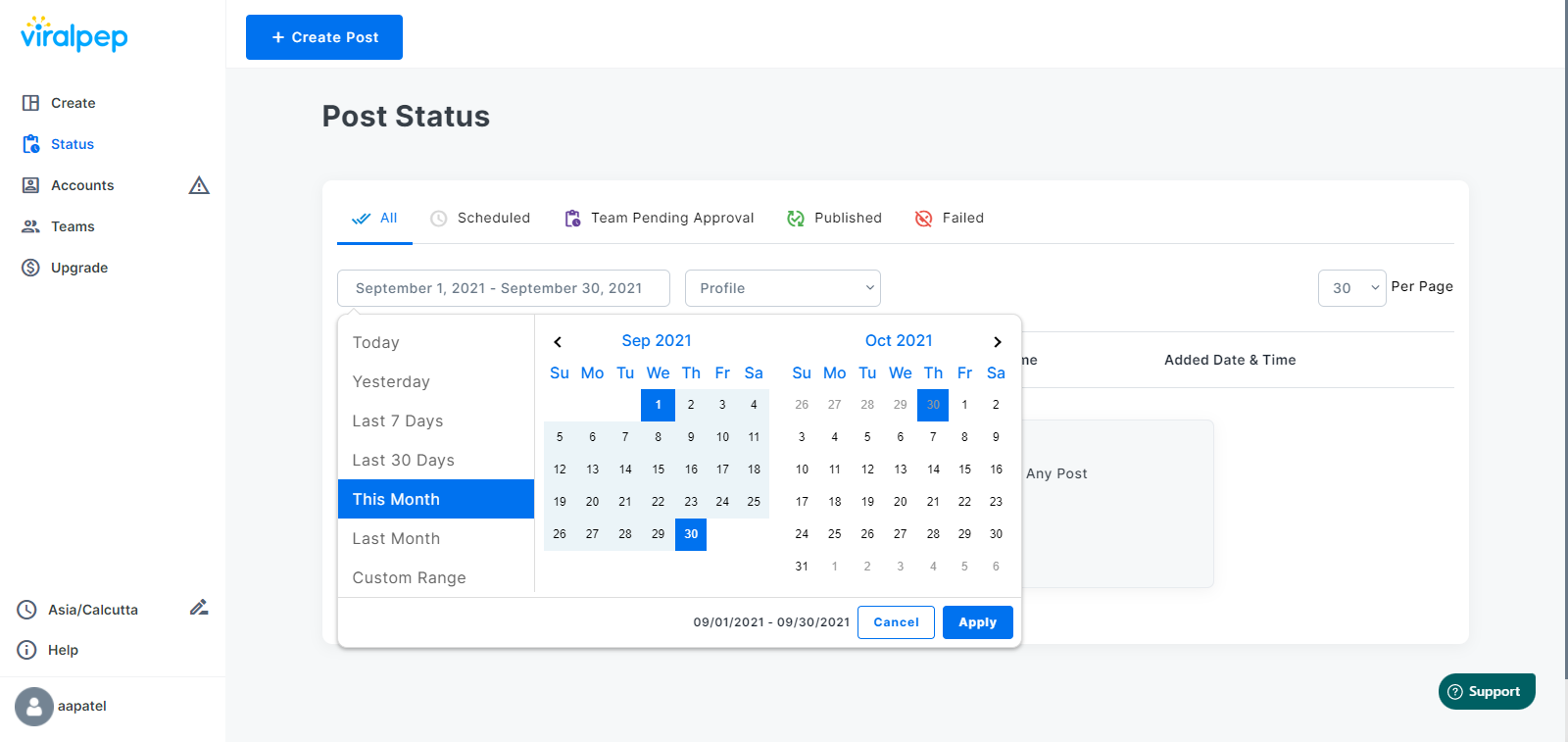 To go back in the calendar to check on a post is a tedious process.
Not any more!
We have added a new date picker so that you can search posts according to specific dates.
5. Ticket Support
Have an issue you can't resolve?
We have added a new support widget where you can directly submit tickets for the related issues. Earlier, the user had to take a screenshot, note down other related information, and then generate a ticket. But that's an old story. The app does the job for you.
You can also check the status of your current ticket and the ones submitted in the past. There is a knowledge base article ready at your disposal if you need further help.
Need to attach screenshots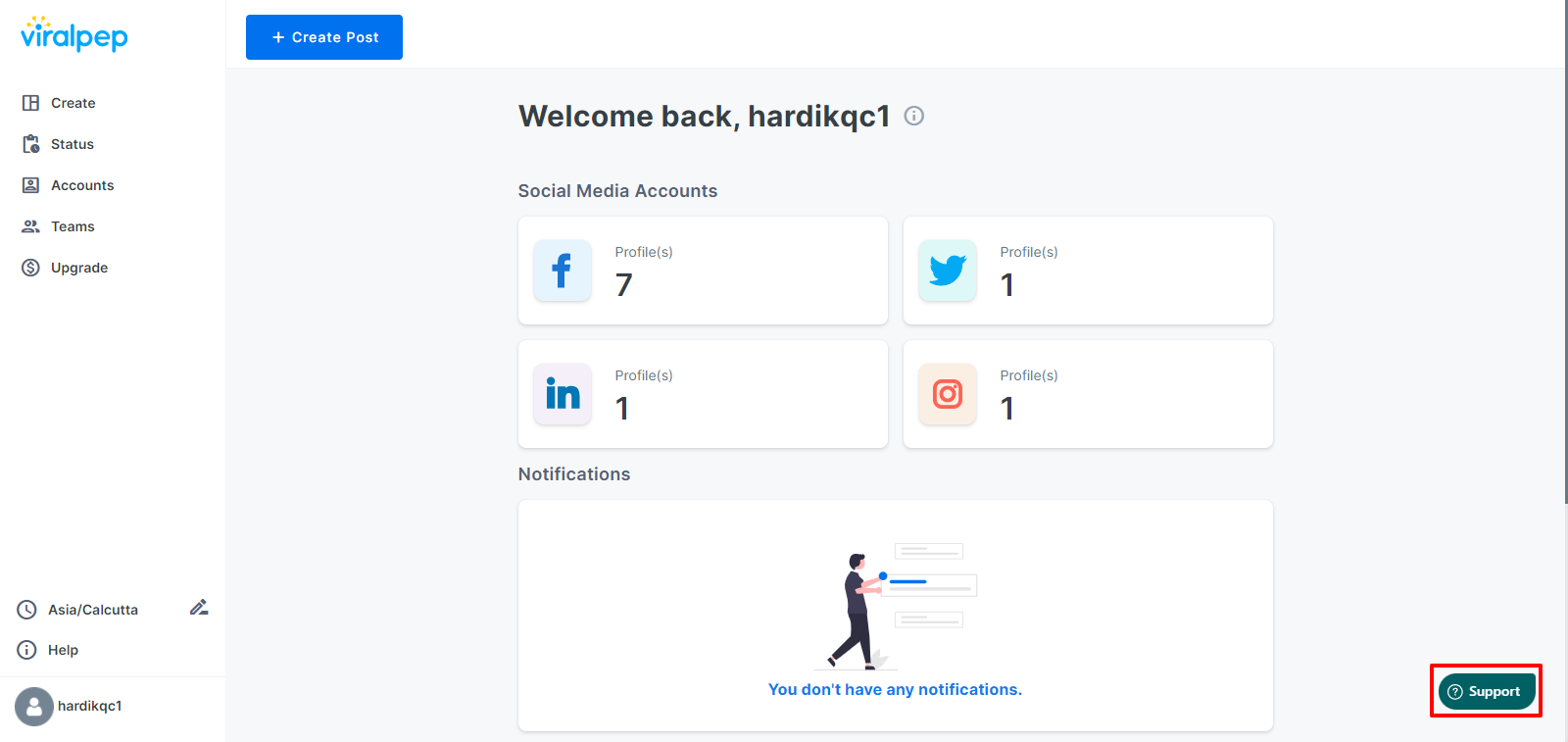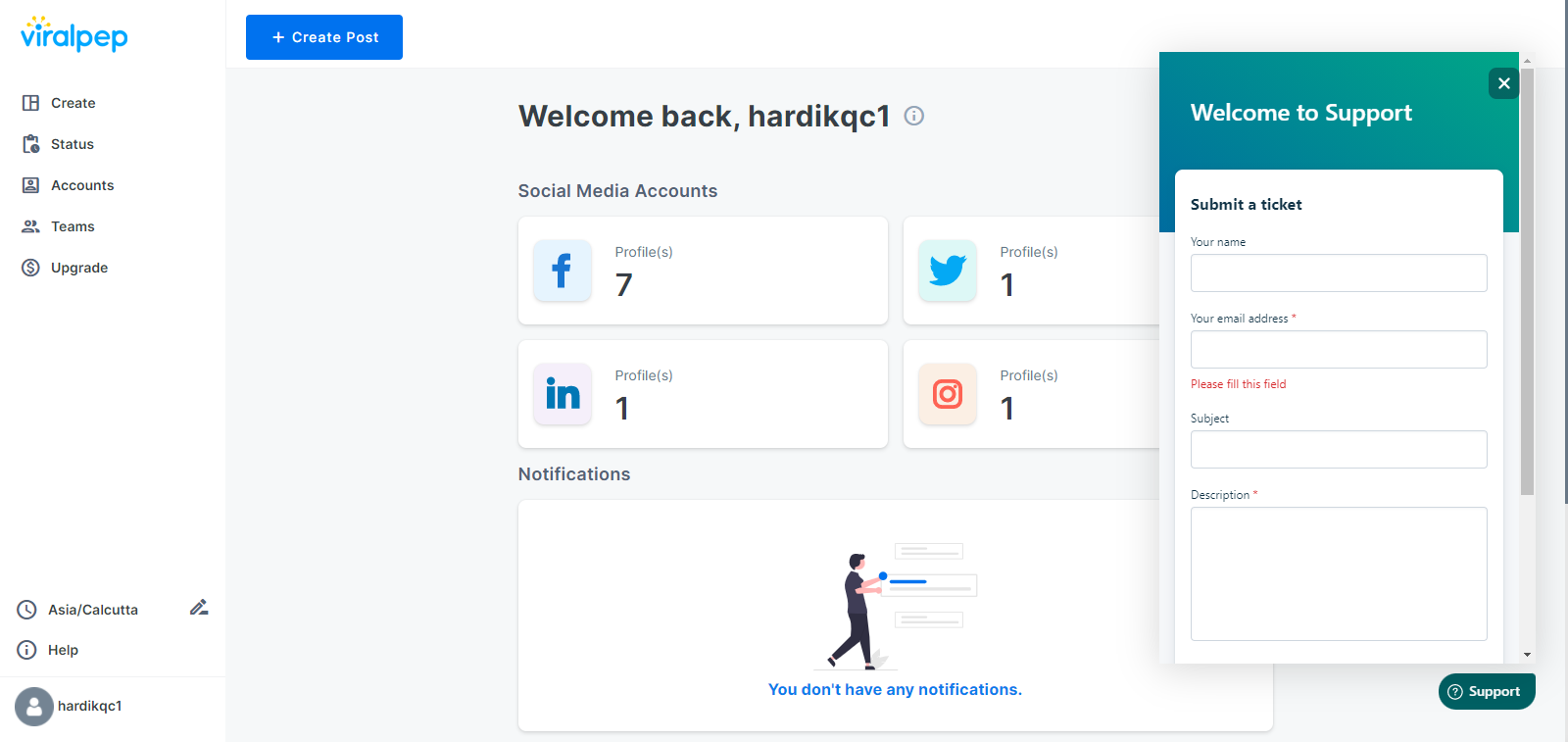 Other Notable Changes
Accounts
New Design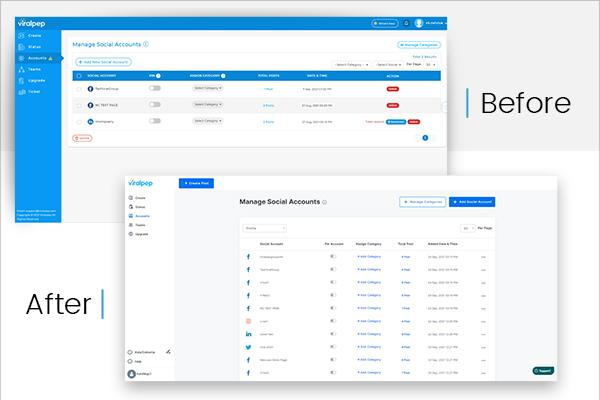 More Accessible tabular design
You will be able to assign a category for each account
Pin account for default selection
Manage Team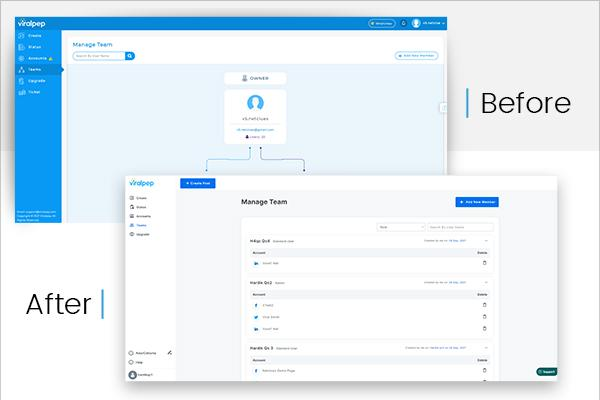 Bugfix and performance improvement
This is NOT it!
We are continuously changing Viralpep to further your association with us, making social media management for your business easy as a breeze.
Check out the latest upgrades now.
If you haven't registered on Viralpep, start with a 15 day Free Trial period.