Introduction
Earlier this month, Twitter replaced its bird logo with an "X."
The Twitter website now displays a different logo, replacing the familiar blue bird.
According to Elon Musk, this move is not merely a renaming of the company but a strategic effort to reshape its identity.
However, it's worth noting that Twitter encountered an issue with the new username "X," which already belonged to another user on the platform.
Let's explore some facts about the story behind introducing the "X" factor on the Twitter platform.
Fully embracing the "X" branding, Twitter's owner, Elon Musk, announced earlier this month (July 2023) that the platform would adopt the "X" logo and name, bidding farewell to the original blue bird symbol.
"X" is the term used by Mr. Musk to describe an "everything app" that aims to integrate social media, instant messaging, and payment services.
The company has already implemented the change on 23 July 2023, replacing the Twitter bird logo with the "X." Furthermore, to align with the new identity, Twitter changed its official username.
According to Mashable's report, the original "X" username was owned by a Twitter user named Gene X Hwang, who has been using it since 2007.
Hwang is a co-founder of Orange Photography, an event photo company, and is one of the few Twitter users with a single-letter username.
These usernames are highly valuable since there are only 26 letters in the English language. Websites ensure that usernames are unique and cannot be duplicated to safeguard users' online identities.
However, this move appears to have raised concerns, as the company seemingly took the "X" username from its original owner without providing any financial compensation or prior warning.
Changes Introduced in Twitter X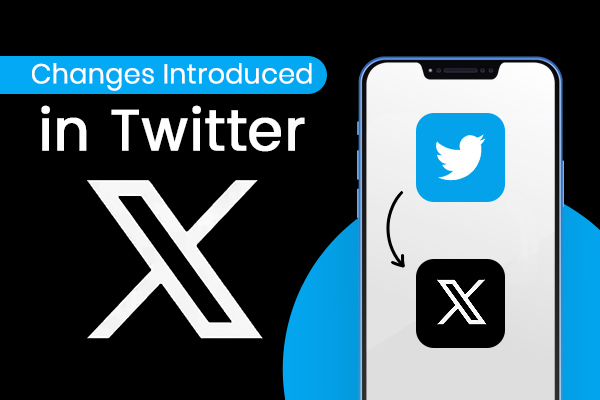 Following Elon Musk's acquisition of the microblogging giant Twitter, he has implemented so many changes that it's becoming challenging to keep track of them all.
One of the latest changes involves rebranding the familiar 'blue bird' logo to a 'white X.' In a swift campaign, Elon Musk replaced the Twitter logo with an X.

The domain X.com now redirects to Twitter.com, even though the platform encourages users to "tweet" their messages.

Currently, the platform's rebranding is limited to a name change, with no new features introduced, aligning with Musk's apparent product strategy of initially generating hype and delivering updates much later.

As Twitter is rebranding to X, the company has updated its Android app by replacing it with a new logo and name. To date, there are no updates for iPhone App Store.

In addition, users can go live with Spaces, enable audio broadcasts, or stream live video. They can also engage in private communication through Direct Messages.

Users can upload and view videos for up to 3 hours, along with various other features and functionalities.

The name "Twitter" was apt when the platform revolved around short 140-character messages, resembling birds tweeting back and forth. However, with the current capability to share various forms of content, including lengthy videos spanning several hours, the name's relevance has evolved.

Moreover, Twitter offers the Twitter Blue subscription, which allows users to enhance their reach, obtain a blue checkmark, and enjoy additional features.
Bloomberg Intelligence analyst Mandeep Singh noted that the name change implies Musk will probably retain control of the company in the foreseeable future.
According to Singh, when Musk took over in April 2022, some observers speculated that he might make alterations to Twitter and promptly sell it to another owner.
Some Amazing Things To Know About X
Twitter has changed its official handles, rebranding them with the letter "X" and adopting the new X logo as its profile picture.
For instance, handles like @TwitterSupport and @TwitterDev are now @Support and @Xdevelopers, respectively.
The subscription service Twitter Blue has also been renamed to @XBlue on the site, although the About page of the paid plan still retains the Twitter Blue branding.
While several of Twitter's regional handles, such as Twitter Japan and Twitter India, are yet to be renamed, the transition to the new branding is in progress.
In addition, there is an update on the Twitter Video page, where verified users can now grant permission to other Blue users to download the videos they post on the platform. This feature enables offline viewing of videos, enhancing the overall user experience on the social network.
User Expectations From Twitter X
According to analysts, broadening the platform's scope to encompass features such as shopping and paid subscription content could prove beneficial in the long run.
By doing so, Twitter could establish multiple revenue streams and reduce its dependence on the willingness of large companies to invest money.
However, implementing these capabilities would necessitate substantial investment in human resources and infrastructure in the short term.
Considering that the company previously laid off about three-quarters of its staff and is currently entangled in multiple lawsuits over unpaid bills, there are uncertainties about its capacity to deliver on these plans.
Over the next few months, the company plans to introduce comprehensive communication features and the capability to encompass the "entire financial world."
Musk aims to transform X into a "super app" that retains Twitter's current social networking and messaging functionalities and incorporates features like payments, banking, and video capabilities.
Conclusion
Elon Musk's takeover of Twitter has sparked a wave of changes, leaving the social media landscape buzzing with curiosity and anticipation.
The rebranding to "X" and the vision of a "super app" showcase Twitter's aspirations to break new ground and redefine its role in users' lives.
While the concept holds great potential to unlock multiple revenue streams and reduce reliance on external funding, the path ahead is fraught with challenges.
As users await the unveiling of the 'super app,' the coming months will undoubtedly be crucial for Twitter's transformation journey, determining its future trajectory in the ever-evolving tech domain.
FAQs
What is the significance of the 'X' logo on Twitter?
The 'X' logo is part of Twitter's rebranding under Elon Musk's leadership, symbolizing the platform's shift towards a new identity and vision.
What does Elon Musk mean by a "super app" for Twitter?
Elon Musk's "super app" vision for Twitter aims to create an all-in-one platform beyond traditional social networking and messaging. It seeks to integrate various functionalities like payments, banking services, and video capabilities, offering users a comprehensive experience within a single app.
Will Twitter's rebranding affect the existing features of the platform?
While the logo has changed, Twitter's core social networking and messaging features remain intact. The rebranding focuses on expanding the platform's capabilities and not altering its fundamental functions.
How will Twitter benefit from incorporating payments and banking services?
By integrating payments and banking services, Twitter can diversify its revenue streams. This reduces its reliance on advertising and brand partnerships, providing the company more financial stability and flexibility.
What challenges does Twitter face in becoming a "super app"?
Building the new capabilities would require significant human resources and technology infrastructure investments. Additionally, user adoption, privacy concerns, and regulatory compliance are challenges that Twitter must address during its transformation.
Are there any concerns about user privacy with adding payments and banking services?
The integration of payments and banking services within a social media platform may raise user privacy and data security concerns. Twitter must implement robust security measures and transparency to address these potential issues.
How will Twitter ensure a smooth transition to the "super app" concept?
Twitter's success in becoming a "super app" depends on a seamless and user-friendly transition. The company may provide updates, guides, and communication to ensure users understand and embrace the new features.
When can we expect the full rollout of the "super app" functionalities on Twitter?
There is no specific timeline for the entire "super app" feature rollout. Twitter may announce updates and developments in the coming months as they work towards implementing the vision.