"Change is the only constant."
We know how demanding and gruelling it is to manage social media for your brand and organization. Viralpep works with an aim to simplify it. Thousands of our users rely on Viralpep to streamline their social media marketing.
As a software company, we are always evolving, making changes, tweaking old, and introducing new features so that our clients always get the best out of Viralpep. And today, we would like to discuss a change that we are about to bring to our "Free Plan."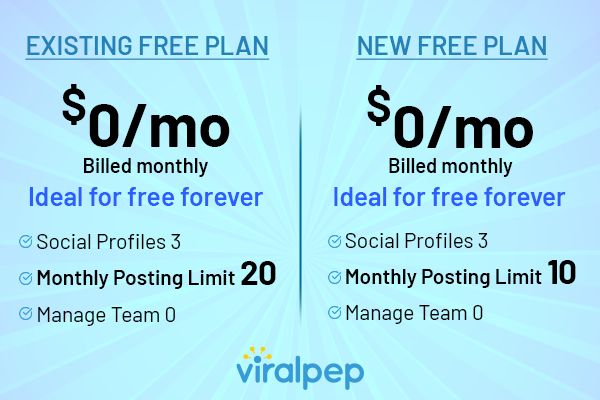 Instead of 20 posts a month, we have cut it to 10 posts a month. NOTHING ELSE has changed.
But, why?
"20 posts to just 10, you say?"
"How can that be good?"
"That's not a feature update we are in for?"
We know there might be these and more questions perplexing you at the moment.
But hear us out.
Bringing down the free post to 10 counts per month makes room for
More Storage Space
More New Features
Fewer Glitches
Secure and Speedy Services
It helps us add power to Viralpep and deliver value to YOU, our clients!
We are learning and growing each day with our clientele, whose support matters a lot, and a big thank you for your continued patronage and partnership.
Pricing - Starts at $15/month
Free Trial - 15 Days
Free Plan - Yes